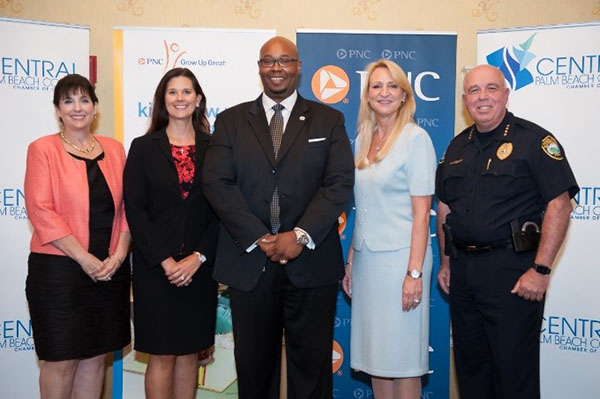 On Thursday, Aug. 16, the Central Palm Beach County Chamber of Commerce held an education economic luncheon presented by PNC Bank. The event's keynote speaker was Palm Beach County School Superintendent Dr. Donald E. Fennoy II.
The presenting sponsor representative was Kimberly Reckley, PNC Bank's senior vice president and client and community relations director for the Southeast Florida market. Reckley spoke about PNC's nonprofit mission, Grow Up Great, for early childhood development and education.
Fennoy engaged the crowd with enthusiastic announcements for the school year and continued support of the mission and strategic plan for Palm Beach County schools. The presentation was emphasized by highlight videos of many area schools.
Fennoy is the 26th superintendent of schools for the School District of Palm Beach County. He previously served as chief operating officer from May 2016 to March 2018 under the leadership of former Superintendent Dr. Robert Avossa. Fennoy comes with the leadership and experience improving operational efficiencies and managing district procedures during Hurricane Matthew in 2016 and Hurricane Irma in 2017.
Next month's economic luncheon will focus on mental health and will feature keynote speakers Palm Beach County Sheriff Ric Bradshaw and Dr. Marisa Azaret of Nicklaus Children's Hospital. It will be held Thursday, Sept. 13 at Breakers West Country Club from 11:30 a.m. to 1:15 p.m. Tickets are selling quickly.
The Central Palm Beach County Chamber of Commerce is a private, not-for-profit organization dedicated to business advocacy, economic development, and education. Communities located within the chamber's footprint are: the Acreage, Atlantis, Belle Glade, Greenacres, Lake Clarke Shores, Lake Worth, Lantana, Loxahatchee Groves, Manalapan, Palm Springs, Royal Palm Beach, South Palm Beach, Wellington, Westlake and West Palm Beach.
For more information about future Central Palm Beach County Chamber of Commerce events, visit the chamber's web site at www.cpbchamber.com or call (561) 790-6200.