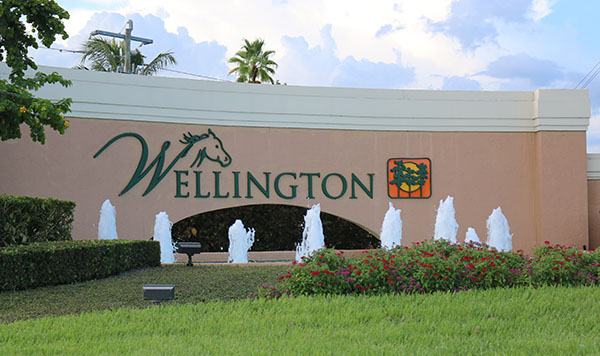 Residents of homes in Wellington's 12th Fairway neighborhood awoke the morning of Saturday, Aug. 25 to find a flier attached to their doors once again announcing a proposed development for the site of the former Palm Beach Polo & Country Club North Golf Course.
The flier invited residents to a meeting on Thursday, Sept. 6 at 7 p.m. at the Wellington Community Center, located at 12150 W. Forest Hill Blvd., to learn more about the residential housing proposal.
The area is located on the north side of Forest Hill Blvd., adjacent to the Wellington branch library. An unused golf course for nearly two decades, the area has overgrown and taken on the look of a natural preserve that many residents of the 12th Fairway enjoy and believe add to their property values.
The homes were designated for golf course views when they were built. As a result, past attempts to develop the area by Palm Beach Polo owner Glenn Straub have been received with strong community resistance.
The proposed development, which has not yet moved past the concept stage, is to be called Polo Club North. The company behind the proposed development is Miami-based 13th Floor Investments, whose principal is Michael Nunziata. While representatives from 13th Floor have had preliminary discussions with Wellington's Planning, Zoning & Building Director Bob Basehart, there is no official proposal currently before the village.
Village Manager Paul Schofield said at Tuesday's Wellington Village Council meeting that the preliminary renderings he viewed do not meet with the village code due to a lack of open areas.
Karina Castaño with Schwartz Media Strategies in Miami released a statement to the Town-Crier on behalf of the developer.
"13th Floor Homes has entered into a preliminary agreement to acquire Polo North. Our team is in the early planning stages, and while we have not yet finalized a site plan, we do know with certainty that this will remain a for-sale residential project designed to enhance the surrounding community," the statement read. "As we continue our due diligence, 13th Floor Homes will be hosting a town hall on Sept. 6 to gather initial feedback from the community. We look forward to incorporating the insights shared into our vision."
Michelle Kaplan, who has lived on the 12th Fairway since 2012, has been outspoken on the issue. After receiving the notice, she began knocking on the doors of neighbors to gather opposition support. She created a Facebook group called "The 12th Fairway" to organize members of the community.
"The proposed plan has one access point on Forest Hill, so it's right in and right out only," Kaplan said in an e-mail to village officials that she shared with the Town-Crier. "So, if you have to head east, your only option is to dash across three lanes of traffic and make a U-turn at South Shore. In the morning, the traffic backs up at South Shore due to the eastbound commute — not to mention the two schools and the public library at Royal Fern Drive and Polo Club Road."
Kaplan asked that Wellington work to preserve open green spaces — especially in its most densely populated areas.
"The golf course is no longer a golf course. Instead, it has become a refuge to many species of flora, fauna, wild birds of all types, alligators, otters and all kinds of amazing creatures. Once developed, the damage is done. We can never have it back," she said.
Former Wellington Mayor Tom Wenham is among the residents living near the affected area. "I will attend the meeting and see what 13th Floor has to say," he said. "But I think it should stay as open space."
Former Wellington Councilman Al Paglia also lives in the area and voiced concerns with the preliminary proposal.
"I urge our council to consider a concept that our original parks and recreation director, village manager and I proposed: purchase the land from Mr. Straub and keep it designated recreation as it is now," he wrote in a statement to local media outlets. "Simply cut a small opening near the library or Eldridge Gale and create a natural preserve park. Put a jogging trail and bicycle path in to circle the entire area, as Pinellas County has done in Dunedin/Clearwater, which allows residents to walk, jog and bike ride without vehicle traffic."
The developer rented space at the Wellington Community Center to discuss the preliminary plans with the community and receive feedback. This meeting is not sponsored or endorsed by the Village of Wellington.