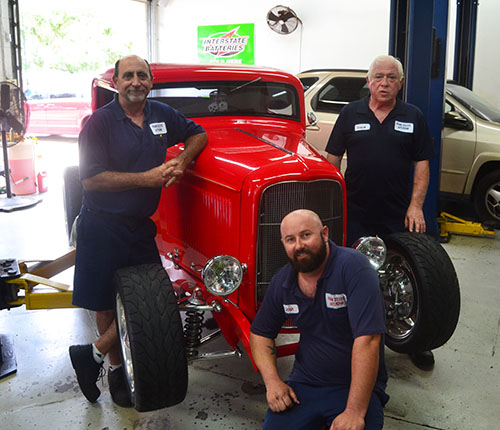 Frank Zocco has been a leader in the local automotive repair industry for 28 years. He is currently celebrating the 10th anniversary of the current location of Frank Zocco's Auto Repair off Pierson Road in Wellington.
Zocco moved to Royal Palm Beach in 1976 after having been born in Pennsylvania and growing up in Miami. He opened his first business in Wellington in 1984.
"Okeechobee and Southern boulevards were one lane in each direction then," Zocco recalled. "It was pretty desolate out [here]. There was peace and tranquility. The area has changed, but I'm still here."
Zocco has established a good customer base in Wellington as his business has grown. It started as a three-bay garage in Royal Palm Beach before moving to the old Mobil gas station on Forest Hill Blvd. near Wellington Trace from 1990 through 2008.
"I got out of the business and focused on repairing cars," Zocco said. "We work on everything from cars like Mercedes and BMWs to everyday cars like Mazdas. Anything mechanical, we work on, including extreme classics. We have quite an extensive list of cars we've worked on. Just about anything you can imagine — custom-built cars, Cadillacs, Trans Ams and Corvettes."
Rich Farrell of Wellington has been with Zocco since he moved to the present location. Although they both originally hail from Pennsylvania, they did not meet until Farrell came to Zocco's Mobil gas station as a tool distributor. He owns a 1974 Corvette Stingray and a 1989 Corvette.
The third member of the team is Josh Carle of Lake Worth. Carle has been with Zocco for several years and does mechanical work.
"Classic cars let me know why I wanted to be a mechanic," Farrell said. "The owners are car buffs. They love cars. They are reliving their past. They want the car fixed right."
"They take more pride in their classic cars than their new Mercedes and BMWs," Zocco added.
"Car people are car people," Farrell continued. "They know their cars better than we do. The hard part is finding the parts."
"Finding a part is like finding gold," Zocco interjected.
Farrell explained that staying current on new cars is the hardest part of the job. "We take classes every few months to stay current," he said.
Farrell said that computer technology is the biggest change to the automotive industry since he began in the business. "Computer technology is two-fold," he said. "Cars are running better and are more fuel efficient, but they are more expensive to fix. It takes more time to diagnose the problem with the computer than it does to fix the problem mechanically."
The auto repair industry is currently suffering from a major mechanic shortage, Farrell noted.
"Kids are not getting into it," he explained. "It's very physical. You wear yourself out. It's hard work. You have to buy your own tools. Between the three of us, we have $200,000 in tools. There's an expense getting into it."
"You've got to go out and buy the tool if you want to work in the car," Zocco added.
Some of the more interesting problems Frank Zocco's Auto Repair has faced over the years include encounters with some of Wellington's prodigious wildlife. They once found a possum stuck under the hood of a Ford truck. They have also repaired damage caused by rodents when residents have not properly stored their vehicles when leaving the area for the off season.
The team at Frank Zocco's Auto Repair recommend storing your car in an air-conditioned garage if it is going to be left sitting for a long period of time. One of the problems they have seen frequently from cars sitting is carburetors needing to be rebuilt.
Florida's weather, along with relatively lax state laws, make car upkeep a challenge.
"State inspections up north force people to take care of their cars," Farrell said. "We do our best to help you to not break down. We recommend an oil change every 3,000 miles."
Frank Zocco's Auto Repair is a AAA-approved auto repair service. They are also NAPA AutoCare approved. This has brought them customers from as far away as Rhode Island. Several of their regulars participate in car shows and refer others to Zocco when asked where they have their car serviced.
"They know it'll be done right when they get it back," Zocco said. "They trust me. I can fix pretty much anything."
Frank Zocco's Auto Repair is located at 3380 Fairlane Farms Road in Wellington. For more info., call (561) 798-9194 or visit www.frankzoccosautorepair.com.