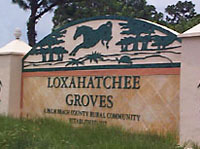 The Loxahatchee Groves Town Council last week approved the preliminary reading of an amendment to the 90-acre Groves Town Center application with several conditions recommended by the council sitting as the town's Local Planning Agency (LPA).
The commercial-low-zoned property owned by Solar Sportsystems and Loxahatchee Equestrian Partners is located on the northeast corner of Southern Blvd. and B Road, east of the Loxahatchee Groves Commons shopping center.
Groves Town Center has been approved for a maximum of 103,000 square feet of commercial retail space on 34.34 acres, a maximum of 44,000 square feet of medical and professional offices, and a congregate living facility with a maximum of 128 beds on 40 acres. Commercial uses proposed include a Wawa convenience store, Aldi grocery store and a Chase Bank.
The amendment request included the reconfiguration of several pods, the relocation of access points, and the reduction of landscaped buffers from 50 to 35 feet and 25 feet in front of the Wawa. The intensity of use was not changed.
"The LPA made a recommendation of approval subject to eight items being adequately addressed prior to the first reading of the ordinance," said Planning Consultant Jim Fleischmann at the Tuesday, Aug. 7 meeting.
Staff recommended approval of the items, which included the clearing of the south side of the Collecting Canal 20 feet from the canal, a parking waiver, lighting hours, a legal positive outfall, construction timing of a planned equestrian bridge, the type of document and approval authority for the conservation easement, location and assurance of a drainage system for the entire 90 acres, and phase one elevations indicating consistency with the town's Rural Vista Guidelines.
Solar Sportsystems representative Scott Backman said his staff had tried to respond to the conditions.
"We spent a lot of time over the last several weeks working internally," Backman said. "Some of the items are not fully relevant to the [planned unit development] and more appropriate to the site plan that we're looking to process for the users, such as the architecture. We went back and worked closely with all of the architects for the users."
At the July 17 LPA meeting, some council members said they felt a Wawa did not fit in with the uses they wished to have in the town, but Backman said he had a representative from Wawa to explain the company's history, which is rooted in the dairy business, as well as a representative from Aldi.
"You'll still hear this later this evening on first reading, so I believe even if there are some open items, we have time between now and second reading… that we would really like to see line up with our site plan," he said. "After tonight, if all goes well, we would bring the site plan forward, moving everything to you in one package for final approval on one night, [when] you are able to see everything in whole."
Backman said the developer has added more greenery and a berm, complying with new landscape regulations approved earlier that evening to make the project more compatible with the town.
He explained that the amendment was made necessary by entrance and exit relocations required by the Florida Department of Transportation, which also requires reconfiguring some of the pods.
The developer also agreed to clearing Collecting Canal on the portion adjacent to the property, which is clogged with exotic invasive species, but Backman pointed out that the developer does not own the canal.
"We're still trying to figure out the specifics of how it's going to get done and what the cost would be," he said. "Our preference would be maybe to make a contribution to the town where the town's water control district would be responsible for the clearing."
Backman said the drainage questions were settled by establishing a positive outfall, and a preserve area would be protected by creating a perpetual conservation easement.
Relating to more site-specific issues, Backman said the developer is asking for smaller parking spaces in return for providing more greenery on the parking lot.
"We have spoken to some of our engineers and the users on a revised site plan that has significantly more amount of green, and it also meets your code," he said. "We're doing absolutely everything we can to get into Loxahatchee Groves."
Backman said a 3-foot berm has been added within the buffer, at the request of the LPA, in exchange for being granted a 25-foot buffer at Wawa rather than 35 feet, which he said complies with the town's new landscape regulations.
Architecturally, he said the developer's staff had quickly come up with new designs for the Wawa, Chase and Aldi that comply with the town's guidelines with the idea of getting some input from the council.
"We've provided a prototype," Backman said. "It is very much in line with what your design guidelines recommend. We would definitely like some feedback and direction."
Backman said the developer is asking to keep the lighting waiver, which asks for lights to remain on all night, especially at the Wawa.
"There was a lot of discussion about lighting pouring offsite," Backman said. "What's interesting is your code does not regulate hours of operation. There's nothing saying we can't stay open 24 hours. The lighting section says your lights have to go off at [11 p.m.], which isn't safe if someone chooses to stay open. What we're trying to do is reconcile all of that."
Backman said that more documentation would be provided about downlighting and dimming during the site plan presentation.
"There are some ways to address this and make it safe but avoid some of the concerns with regard to light pollution," he said.
Wawa representative Mary Frayman said Wawa is a Native American name for the Canada goose.
"Wawa actually goes back more than 100 years," she said. "Our original dairy farm was built in a rural section of Pennsylvania called Wawa. It exists today. That original dairy farm is still operating, so the name was adopted by the company. Our customers tell us that Wawa really means things like home, family, appetite and satisfaction. Additionally, with our history rooted in dairy farming, our commitment to fresh and safe products has always been a matter of personal and family trust."
Frayman said the Wawa stores have several different prototypes designed to fit in with their surroundings.
Councilwoman Phillis Maniglia asked if Wawa would agree to hiring its own security personnel, and Frayman said the company will not locate in an area that is not safe for its staff or customers.
"We go on tours monthly with security," she said. "We don't want to open in an unsafe area. If we needed to, we would look at [hiring security]. We would have to look at what the factors were."
As for the equestrian bridge, Vice Mayor Todd McLendon said the applicant's request for 2022 is not soon enough. "I'd like to see something like 2020 for a date on that," he said.
Backman said they could set 2020 for conversation.
During the council portion of the meeting, McLendon made a motion to approve the application, which carried 5-0.