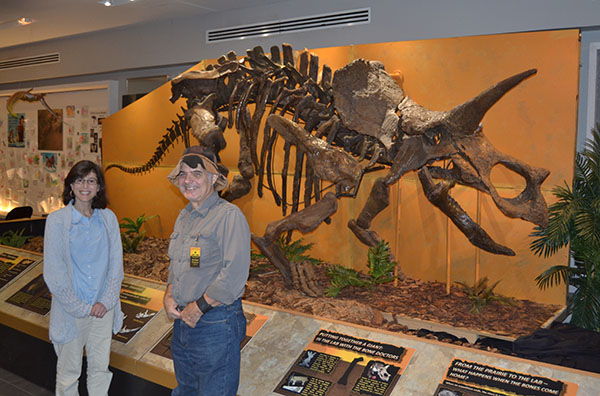 Tucked away in a corner of the Mall at Wellington Green near Nordstrom is the Palm Beach Museum of Natural History. It was a topic of conversation at the Wellington Village Council meeting on Tuesday, Aug. 28, when Museum Director Rudolph Pascucci and Special Events/Development Manager Alyssa Rudinsky gave a presentation explaining the museum and its background.
The museum opened at its present Wellington location on June 10, 2017. Since that time, more than 10,000 visitors have passed through the museum, including numerous school field trips.
What began as a three-month test run has now resulted in a new 18-month lease keeping the museum at the mall until the first quarter of 2020.
"Fate brought us to Wellington," Pascucci said. "We love the village. We are more than happy. It is the best place in Palm Beach County that we can be."
Pascucci is a New York native and a retired U.S. Army captain who saw combat in Vietnam. He holds advanced degrees from Florida Atlantic University in geoscience and paleontology. He relocated to South Florida in 2009 when he began teaching at Everglades Preparatory Academy.
Also on the museum staff is paleontologist Robert DePalma, who Pascucci describes as a rising star within the field. DePalma has appeared on NatGeo and is currently at an excavation in South Dakota.
Dr. Peter Ferdinando is the museum's anthropologist. He has displayed a passion for colonial Florida history and was the force behind the museum's past Exhibition Conquistador displays.
Prior to the museum's acquisition of space within the mall, the exhibits traveled to different locations, including the Grassy Waters Preserve and the South Florida Science Museum in West Palm Beach, and the Lawrence E. Will Museum of the Glades in Belle Glade.
"The mall chose us," Pascucci said. "We explored other locations in Palm Beach and Broward counties, but nothing worked until we came to Wellington."
Pascucci cited support from the quality local schools and businesses, along with the team at Starwood Properties, which owns the Mall at Wellington Green. He singled out Marketing Director Rachelle Crain and Outreach Coordinator Meghan Buser for bringing the museum to the mall.
"Malls are evolving," Crain said. "We are evaluating new uses. We are reaching out to the community. We want multi-use space and not just big, national retailers. Our goal is community malls that expand into dining and entertainment. The more people, the better it is for businesses."
The museum is part of the mall's award-winning Live 360 program that will be rolled out to other Starwood malls.
The museum utilizes the Live 360 venue for special events. One such event was the Rock of Ages concert on Friday, Aug. 24 that served as a museum fundraiser.
"It's a wonderful surprise for our shoppers," Crain said. "They learn about culture, education, passion, history — where we came from."
Vince Borghese is a sixth-grade science teacher at the Western Academy Charter School in Royal Palm Beach. Once a quarter, he provides an introduction to paleontology program to his 85 students that includes an expedition to the Peace River near Arcadia.
"Rudy does a great job," Borghese said of Pascucci. "The kids get to see things up close and personal. The key is to have them touch something that old."
Borghese said that if the museum were located elsewhere in Palm Beach County, his students would not be able to take advantage of it.
"It's a really nice resource locally," Borghese said. "We can get something to eat and do a little shopping, too."
The museum currently has a full-size triceratops on display that was excavated from Hell Creek, South Dakota.
The current themed exhibit is Expedition Ice Age and includes a depiction of a confrontation between a saber-toothed cat and a giant-toed sloth.
However, more than 900 boxes of archaeological material — some of which was excavated locally in Palm Beach County — remains in storage due to a lack of available space. Much of it dates to 500 B.C. and the first Florida peoples. The museum is the State of Florida's custodian of these important artifacts.
The museum staff made their presentation to the council in the hope of soliciting funding for a new, larger location that would allow them more exhibit space. They have targeted a space on the mall's second floor with a goal of raising funds by the end of their current lease.
In order to secure valuable grants from within Palm Beach County, the museum is in the process of reshaping its board to comply with the requirement that half the board members reside within the county. This is expected to occur at its Sept. 12 board meeting, when two new members will be chosen.
Much of the presentation was the work of Rudinsky, who lives in Lake Worth and has a background in Biblical archaeology. She is set to begin training on Oct. 1 with the Cultural Council of Palm Beach County to begin filing for grant funding.
"We're completely sustained by volunteers and donations," Pascucci said. "Our objective is a new physical location and to showcase what we're doing."
The presentation outlined how the museum draws guests into the mall and surrounding businesses, increasing revenues. They envision the museum as a cultural hub that draws tourists to Wellington to visit the museum, who then go on to shop, dine or see a movie as part of a day out.
Mayor Anne Gerwig expressed her wish that the museum had come before the council sooner, but Pascucci replied that they were waiting until the new 18-month lease was signed to show their commitment to Wellington.
Vice Mayor Michael Drahos said that he would visit the museum at a future date with his family.
Gerwig hoped the museum could provide an outlet for Wellington's active senior community looking to volunteer within the community.
The Palm Beach Museum of Natural History is located within the Mall at Wellington Green near Nordstrom. It is open from 11:30 a.m. to 7:30 p.m. Monday through Saturday, and noon to 6 p.m. on Sunday. Admission is $3 for children ages 3 to 12 and $5 for ages 13 years and older.
School and group tours should be arranged two weeks in advance and can be booked by calling Rudinsky at (561) 789-6678. Learn more at www.pbmnh.org.