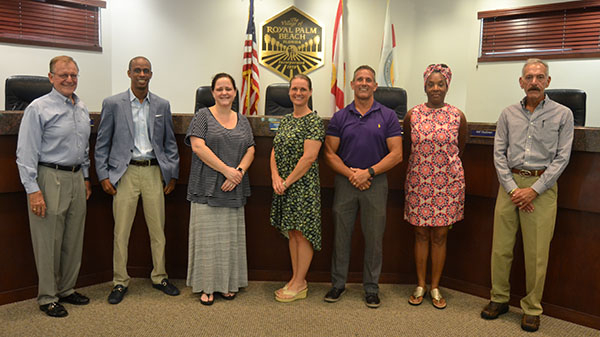 By Eve Rosen
The first meeting of Royal Palm Beach's newly reconfigured Education Advisory Board took place Monday, Aug. 13. The meeting was mostly for introducing the new members to each other and going over some basic rules of local government.
The new members of the board include Steven Brown, Krystal Clark, Julie Highsmith, Dwayne St. Hill, Bill Thallemer and alternate Pamela Shetka. Councilman Jeff Hmara was at the meeting as the board's liaison to the Royal Palm Beach Village Council. Vice Mayor Selena Smith also attended part of the meeting.
Brown has been a Royal Palm Beach resident since 2004, after working in the department of education in New York City from 1972 until 2004. He previously worked as a psychologist before eventually becoming a counselor. He helped students to overcome bullying, neglect and abusive relationships. Brown was selected to be the liaison to Cypress Trails Elementary School.
Clark was selected as the vice chair of the board. She came to Royal Palm Beach after living in Palm Beach Gardens. She started as a daycare provider before becoming a hall monitor, earning her degree and becoming the president of a local school board while teaching in a neighboring school district. Along with being the vice chair, Clark will serve as the liaison to Royal Palm Beach High School.
"I am looking forward to having some impact, especially in the area of curriculum," Clark said. "I'm looking forward to seeing the curriculum improve."
Highsmith is a parent whose children go to H.L. Johnson Elementary School, where she is the PTO president and a member of the school advisory council. She volunteered because she wanted to be more involved in her children's education. Highsmith was selected to be the liaison to H.L. Johnson Elementary School.
St. Hill has lived in Royal Palm Beach for about six years and has a son who is in the third grade at Royal Palm Beach Elementary School, where St. Hill is a member of the PTO and the SAC team. He volunteers as an assistant coach for the wrestling team. St. Hill was chosen to be the liaison to Royal Palm Beach Elementary School.
Thallemer, who was chosen as chair of the Educational Advisory Board, has been teaching for 25 years throughout all different grade levels. Being on this new board makes this the 15th such organization that he has been a part of. As chair, Thallemer volunteered to be the liaison to two schools, Crestwood Middle School and Western Academy Charter School.
Shetka has an eight-year-old son who also goes to H.L. Johnson. She has been on the PTO with Highsmith for two years and has served as the treasurer.
After brief introductions were made, Village Attorney Jennifer Ashton went over the rules of village government, including the Sunshine Law, which forbids two or more members from discussing business that the board can vote on, the Public Records Law, and Robert's Rules of Order.
"'I think we have some really smart people here who are invested and will work a ton better in a group," Thallemer said. "I think we know who we represent, the children of our school system and the teachers. So, let's all work together so we can serve the best we can."