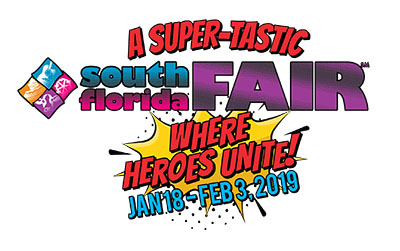 From children to adults, many have used their imaginations to dream of possessing extraordinary or superhuman powers. That's the stuff of superheroes, and honoring them is what South Florida Fair organizers have chosen as the 2019 fair theme. Next year's fair will kick off with its ride-a-thon at 5 p.m. on Jan. 17, 2019 and the full fair will be held from Jan. 18 through Feb. 3.
Fair organizers will be honoring superheroes of all forms — from everyday heroes to the superheroes of the silver screen. Throughout the 17 days of the fair, guests can expect to see appearances by their favorite Marvel and DC heroes. Local superheroes also will be recognized.
That's not all that will be super, according to Vicki Chouris, the fair's vice president.
"Guests can expect to take advantage of super savings with advance tickets and the continuation of our $2 Tuesdays, super concerts, super unique foods, super rides and much more," Chouris said.
Daily parades, which were featured as part of last year's "Magical Parades" theme, will continue due to their popularity. They will be called "Not All Superheroes Wear Capes." Fair organizers will be calling for nominations in different categories in the community, and those selected will get to enjoy the excitement of riding on a float and tossing out beads to guests. More superhero details will be revealed closer the fair's start.
The fair will continue to host an award-winning agriculture and livestock program featuring more than 1,000 exhibitors from more than 30 Florida counties, four stages of music and entertainment, the historic Yesteryear Village, and more than 200 rides, games and attractions. Fairgoers also can expect to tempt their taste buds with the best in fried foods and other tasty, exotic treats.
The South Florida Fair is produced by the South Florida Fair/Palm Beach County Expositions Inc., a nonprofit organization. The South Florida Fairgrounds are located at 9067 Southern Blvd.
For more info., call (561) 793-0333 or visit www.southfloridafair.com.