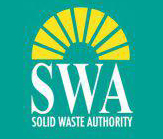 The Palm Beach County Commission, sitting as the Solid Waste Authority Governing Board, will vote Wednesday, Aug. 29 on a franchise agreement for unincorporated areas that proposes to go to automated service with uniform containers, reduce garbage collection to once a week and put workers on a five-day week, rather than six days a week.
The board will also consider reducing yard trash collection to three cubic yards per week, rather than six as it is currently, although Mayor Melissa McKinlay was reluctant, citing her constituents' larger amounts of yard waste.
The board will consider one-day-a-week garbage, bulk, recycling and yard waste services, which staff say will alleviate dissatisfaction from residents with Saturday service, will decrease liability and service personnel, avoid residents getting skipped due to holidays and still have the same amount of garbage collected. It will also mitigate expected increases in the cost of trash collection.
At the last SWA meeting on June 13, SWA staff member Mariana Feldpausch pointed out that 14 cities and nine counties in Florida now have five-day work weeks.
The standardized containers would be 96 gallons at an estimated cost of $50 to $70 each, with the first container provided to residents at no charge, and additional containers available for purchase, and no additional fees for collection or disposal.
Yard waste collection would institute a 3-cubic-yard limit per week, with $8 charged for each additional yard.
SWA Executive Director Daniel Pellowitz said staff was seeking direction on a request for proposals for the franchise agreement, as well as a cutout agreement designed to encourage participation from small business, minorities and women.
Feldpausch said haulers have expressed concern in attracting and retaining qualified CDL drivers and helpers due to the six-day work weeks, and in the past 18 months have noticed increased liquidated damages, incomplete routes and customer complaints. An alternative to manual pickup would be an automated five-day work week.
"With this service, all services would be single day, including garbage," she said. "Haulers would be able to use two types of trucks. Automated would be a truck with a hydraulic arm picking up standardized containers, or semi-automated, which would be rear-load trucks with tipping devices on the back."
She said the switch would help attract qualified personnel and provide them with a better quality of life, and alleviate 33 percent of residents having Saturday service, although there would still be Saturday service on weeks with holidays.
Colleen Robbs, coordinator for the SWA equal opportunity program, said a policy was approved by the board in June to assure that all segments of the business population, including small business and minority and women business enterprises, have an equitable opportunity to participate in the SWA's purchasing process.
McKinlay wanted assurance that the household and commercial populations are accurate in the western areas, considering heavy growth, and the SWA's attempt to attract new small business enterprises. "We have approved a lot of new development in this area," McKinlay said.
SWA Director John Archambo said the numbers are up to date, and haulers are aware of the growth.
McKinlay asked what the backup plan would be if the hauler in that area does not perform, and Archambo said he is hopeful that they would not have to deal with anything like that.
"However, we will have a backup plan," he said. "We'll have to sit down and discuss exactly what we would do, but I can assure you that garbage, yard waste and recycling will be picked up."
McKinlay said she was concerned that, according to staff, there appear to be no companies currently qualified to bid on the new RFP.
"I'm frustrated," McKinlay said. "I find that now we're talking about availability [of minority or small businesses] because these companies don't exist."
McKinlay was also skeptical of staff comments that a newly created western service district would cost more to serve, yet there would be no additional cost to residents.
"How do you tell us that it will be much more expensive to operate in this carveout zone, and then in the same breath say it's not going to cost the ratepayer anything extra?" she asked.
Pellowitz agreed that any increase would have to come from the ratepayers, but he suggested that if the SWA cannot get a favorable RFP, it would simply roll the new service area back into its previous area.
"I can't support moving forward on this until I know what this is going to do for my constituents," McKinlay said.
During public comment, representatives of the four major haulers for the SWA said they supported the changes, including once-a-week containerized pickup and a five-day work week, but could not cooperate in the small business minority and women program.
Robbs, however, said that numerous agencies have incorporated joint ventures that have been very successful in expanding opportunities in the market. "It's really a way to open up markets," she said.
Joanne Stanley of Republic Services said that her company favored most of the changes but could not support the joint venture.
"We've been working with the SBEs the past five years trying to get them certified," Stanley said. "We can work with the small vendors to get them to do little things, but nothing for the hauling unless we subcontract that out. We come up with liabilities and operational issues."
Stanley said the advantage of the five-day work week is that the workers will have a two-day weekend.
"The only real day they have off is Sunday. With Saturday off, that's a whole weekend they can be with their family," she said. "That's a great quality of life, and it gives them time to rest."
Commissioner Steve Abrams pointed out that Boca Raton in his district has a five-day automated service, but it still has two-day-a-week garbage pickup, but Archambo said that option would be very costly countywide.
After more discussion, commissioners said they had no objections to the proposal, including the five-day work week and automated pickup one day a week using standard containers.
McKinlay agreed to the once-a-week garbage pickup, saying, "I can't remember when I last took out my trash twice a week."
But McKinlay was reluctant to approve the smaller cap on yard waste pickup, pointing out that many of her constituents, such as those in The Acreage, have a lot more yard waste.
"You all are killing me on this one," she said. "This is one I simply could not support because such a huge portion of my district needs this service, more than three cubic yards."
Commissioner Mary Lou Berger said she would favor remaining with the six allowable yards. "Most ordinary people are not going to have three cubic yards, and it gives Mayor McKinlay and her area the comfort level that they'll be able to put out what they put out all the time anyway," she said.
Archambo said if they stay with six yards, customers should be educated on bundling their yard trash so it is not so difficult to pick up, and that code enforcement may need to be enlisted to hold the line.
"What we typically do now is if there's 50 cubic yards out there, they'll pick up six," he said. "The homeowner will come home, and they'll look at the pile, and it's hard for them to distinguish that anything has been taken at all."
While there wasn't much opposition to the change to once-a-week service at the last SWA meeting, a number of residents from unincorporated areas attended a Palm Beach County Commission meeting earlier this month to raise objections. Those same objections are likely to be raised before next week's vote.