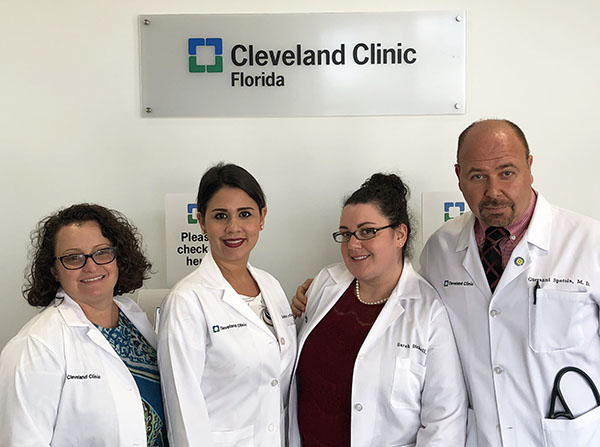 Cleveland Clinic Florida Wellington has expanded its team of family medicine and internal medicine specialists who provide primary care services for adults and children six and older. Dr. Jessica Garcia and Dr. Giovanni Spatola, who helped open the new office located in the Village Green Center at 2789 S. State Road 7, are joined by Dr. Shari Robins and Dr. Sarah Mitchell.
Prior to joining Cleveland Clinic Florida, Garcia was medical director of an urgent care provider in Plantation and Pinecrest. She is a graduate of the St. Matthew's University School of Medicine in the Cayman Islands and completed her family medicine residency at Saints Mary and Elizabeth Medical Center in Chicago.
Spatola joined Cleveland Clinic Florida in 2012 and was previously practicing full-time at the Palm Beach Gardens office. A graduate of Medical University of the Americas-Nevis, he completed family medicine residencies at University of Florida Shands in Jacksonville and at the Florida Hospital in Orlando. While he has been seeing patients part-time in Wellington since the office opened, he will transition to full-time in late September.
Previously, Robins was medical director of a primary care medical group for seniors in Delray Beach. She serves as an affiliate assistant professor of clinical biomedical science in the Charles E. Schmidt College of Medicine at Florida Atlantic University. After graduating from the University of Miami School of Medicine, Robins completed her internal medicine and pediatrics residency at MetroHealth Medical Center in Cleveland, Ohio, where she served as chief resident.
Mitchell is the most recent addition to the primary care team in Wellington. She moved to Florida from Saint Paul, Minn., where she was a physician with the Oakdale Family Medicine Clinic. After graduating from Kansas City University of Medicine & Biosciences College of Osteopathic Medicine, Mitchell completed her family medicine residency at Palmetto General Hospital in Hialeah, serving as chief resident.
Appointments can be scheduled by calling (877) 463-2010 or by visiting www.clevelandclinicflorida.org.