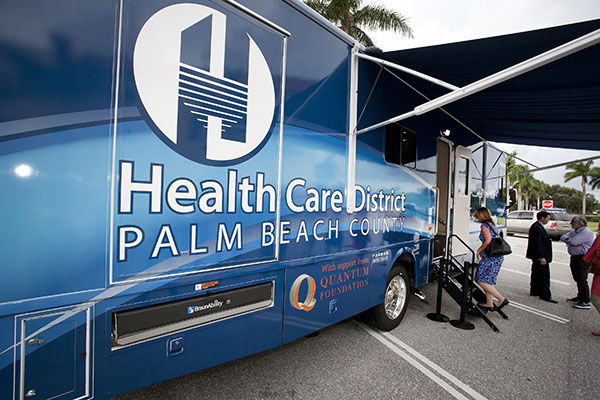 The Health Care District of Palm Beach County unveiled its new 38-foot, custom-built primary care clinic-on-wheels at a ribbon-cutting ceremony Aug. 30 at the Edward J. Healey Rehabilitation and Nursing Center in Riviera Beach.
Community and healthcare leaders, along with advocates for the homeless, toured the technologically advanced vehicle, operated by the district's C.L. Brumback Primary Care Clinics.
The Mobile Health Clinic is hitting the road to deliver medical and behavioral health services to the county's chronically homeless and other underserved adult patients.
"The Health Care District recognized a healthcare need in our community and is proud to initiate this innovative strategy in delivering patient care," said Brian R. Lohmann, chair of the Health Care District Board of Commissioners and a featured speaker at the event. "The Mobile Health Clinic is scheduling visits to centers throughout the county that serve the homeless and other vulnerable populations."
The Mobile Health Clinic is staffed by an advanced registered nurse practitioner, a licensed clinical social worker, a registered nurse and a driver who also registers patients. The medical staff provides a range of primary care and preventative services. The project opens the door for the Brumback Clinics' medical staff to improve the health of those in need who do not traditionally visit the clinics.
"This initiative expands access to preventive care for individuals who often delay treatment," said Darcy J. Davis, the Health Care District's chief executive officer and event speaker. "By not proactively seeking healthcare, their conditions often escalate and they find themselves in and out of emergency rooms."
Dr. Belma Andrić is the Health Care District's chief medical officer and vice president and executive director of clinic services.
"People who are homeless have significantly higher morbidity and mortality rates than those who are sheltered," Andrić said. "The cost of treatment is also more expensive the more acute the conditions become, especially for emergency care. We hope the Mobile Health Clinic helps reduce that cycle and improves health outcomes."
The ADA-accessible vehicle, purchased with support from the Quantum Foundation, features two fully equipped exam rooms with one hydraulic exam bed for bariatric patients, a consultation area and bathroom, as well as a hydraulic wheelchair lift.
The clinic-on-wheels has three television screens for patient education, a large retractable awning and access to the Health Care District's electronic health record system.
The Mobile Health Clinic joins the Brumback Clinics' network of nine federally qualified health center sites throughout the county serving adults and children with or without insurance.
For additional information about the C.L. Brumback Primary Care Clinics, visit www.brumbackclinics.org.