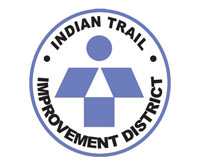 The Indian Trail Improvement District Board of Supervisors approved the purchase of two excavators, a wheel loader and some accessories last week to outfit an in-house culvert installation crew.
"Back when we were doing the budget, we had earmarked $883,000 as carryover," District Manager Rob Robinson said at the Sept. 19 meeting. "We identified those for the culvert replacement crew to get that up and running."
The purchase includes a mini excavator, which the district rented in the past at a cost of almost $70,000 since 2011. "That's above what we could have purchased one for," Robinson said.
The district also spent more than $350,000 on the rental of large excavators going back to 2012.
"Back in August, ITID approved the implementation of a dedicated culvert replacement crew," Robinson said. "On July 18, the proposed fiscal year budget was passed, including the purchase of several equipment additions that were highlighted to outfit the culvert crew."
This included pricing for an excavator and wheel loader totaling $453,300. Also included in the budget was a forestry attachment to cut trees on canal bank easements.
"Aside from the budgeted equipment, I am also recommending the purchase of a 10,000-pound mini excavator," Robinson said. "We have been renting units over the last year with great success. This unit will be paid for from the sale of the old motor graders. All four sold for a total of $130,000. That's going to help offset the cost of some of this machinery."
The purchase of excavators will also enable canal reclamation, Robinson said, explaining that they have minimal swing counterweights.
"When you go in sideways, you don't have 3.5 to 4 feet of counterweight smashing into trees and fences," he said.
Robinson said the last excavator that ITID rented incurred about $10,000 in damaged engine compartments, lights, cameras and antennas caused by the machines spinning around, he said, adding that the reduced counterweight is safer for workers on the ground.
Robinson recommended the purchase of Volvo equipment through Flagler Equipment, as the other bidders were somewhat unresponsive, wanted higher prices, lacked hydraulics or had availability issues.
"We currently have two Volvo excavators in the fleet," Robinson said. "We've used them with great success on the road retros as well as the swales, and everything else that we have been doing out there."
Other than the machine purchases, Robinson said that his crew is ready to start replacing culverts.
"I've ordered pipe for 180th [Avenue], and I don't really have the budget for going into a lot of rentals on this," Robinson said, adding that Flagler Equipment can deliver one of the excavators in two weeks.
Robinson stressed that the equipment will be used for many years.
Argue asked about the option of leasing as opposed to buying. "What I'm concerned about… is that we're going to buy these machines, and in five years we're going to need to upgrade these machines," she said.
Robinson said they will be well taken care of.
"We're going to be using them pretty much day in and day out," he said. "They don't get the abuse on them like the graders. We're not rodeoing these things up and down the roads. We're going to see some hours to them, but with these units, I think the best value is to purchase them outright rather than lease."
Robinson added that the purchase of the mini excavator made no fiscal impact on the budget, since it is being purchased with money from the sale of the old graders, and that it can be used for many applications.
"I've seen how much we were renting them in the past, and it just made fiscal responsibility to go out and pull the trigger on this with as much culvert work [as] we've got to do," he said. "It's a small machine, but it has got enough power to walk down these canal banks, and it's got a thumb on it, so we'll be able to reach down and grab these trees and pull them out of the canal banks, and with the hydraulics, we'll be able to use different attachments."
Argue also asked about the planned purchase of the forestry cutter, and Robinson said that accessory will be used for canal reclamation to cut trees up to 12 inches in diameter.
"We've got a lot of overhangs," Robinson said. "This isn't just a mower. You can actually go up to a tree 12 inches in diameter, top it, push it over and then grind it in place."
Bair made a motion to purchase the equipment, which carried 4-0 with Supervisor Jennifer Hager absent.