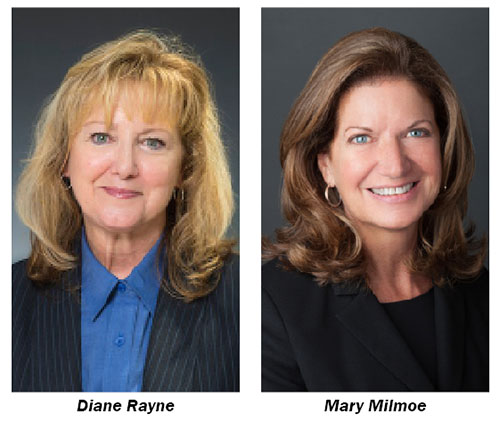 Habitat for Humanity of Palm Beach County recently announced that Mary Milmoe and Diane Rayne have joined its board of directors.
Milmoe is the vice president of communications and marketing for UTC Climate, Controls & Security with international responsibility for external, internal, executive and digital communications, as well as strategic marketing and branding. She is a communications, sales and marketing professional with more than 30 years of global business experience.
Prior to her current position, Milmoe held numerous roles within UTC Building & Industrial Systems and the Carrier Corporation. She also spent two years based in Europe as director of commercial sales development for Carrier's European Distribution. Prior to that assignment, she was the vice president of marketing for Carrier Commercial Systems and Services. Milmoe has also served as the vice president of sales and marketing for Agway Energy Products.
Milmoe earned a bachelor's degree from Cornell University and a master's degree in communication management from the S.I. Newhouse School of Communications at Syracuse University.
Rayne is the senior human relations business partner for the power delivery business unit for the Florida Power & Light Company responsible for leading the strategic HR initiatives to support short-term and long-term business objectives.
Prior to joining FPL in 2009, Rayne worked as a human resource professional in various roles in varied industries, including hospitality and healthcare.
Rayne holds a bachelor's degree in business administration from the Ohio State University, is a member of the Society of Human Resources Management. She is a Palm Beach County resident, living in Wellington.
Habitat for Humanity of Palm Beach County, founded in 1986, is a nonprofit organization dedicated to building strength, stability and self-reliance through shelter. .
For more information about Habitat for Humanity of Palm Beach County, visit www.habitatpbc.org or call Chief Development Officer Amy Brand at (561) 253-2080.