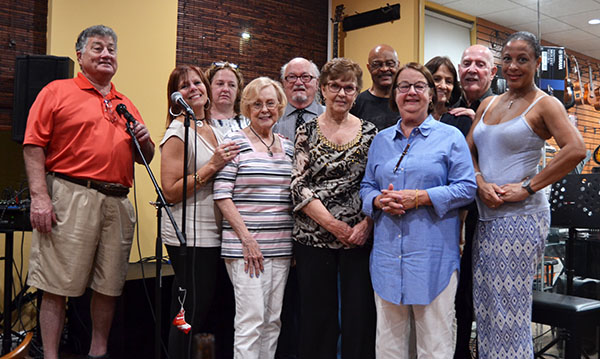 The Royal Palm Beach Writers Group was founded in 2003 by Gloria Ferrara of Royal Palm Beach and Margie Bonner of West Palm Beach. Today, the group serves as an outlet where kindred spirits hone their craft.
It all started when a village employee posted an article requesting that residents submit ideas for new groups to be formed. Ferrara submitted her idea for a writer's group, and the club soon came together. Bonner and Ferrara enjoy writing memoirs and short story fiction.
"I came from a large family," Bonner said. "I have lots of stories."
Every year, the group publishes a collection of short stories and poetry called the Spectrum. Each member is given the opportunity to submit four or five pieces for the publication. The 14th edition will be released this fall.
The group is also involved with many charities and will be hosting a fundraiser for Harmony House on Saturday, Oct. 6 at Village Music near the Mall at Wellington Green. In addition, members collect old cell phones for the YWCA that are converted into emergency phones by the Palm Beach County Sheriff's Office.
Virginia Guido of Royal Palm Beach is a retired educator from Staten Island, N.Y., who serves as co-chair and curates the Spectrum. She also writes the twice monthly newsletter that goes out to members. She enjoys writing genre fiction with unreliable narrators.
"Stephen King meets O. Henry," Guido said of her writing. "It's not for the faint of heart."
John Rifenberg of Royal Palm Beach serves as co-chair of the group and organizes events, such as an open mic night at Village Music. He has lived in South Florida for 21 years and originally hails from Buffalo, N.Y. He is the recipient of a gold medal from a VA creative arts festival. He is a U.S. Air Force veteran and a longtime employee at Albertsons.
"I wanted to learn to play bass in a band or start writing," Rifenberg quipped. "My wife said, 'You better start writing.'"
Hartley Barnes of Royal Palm Beach is in his first year of membership. He is a retired U.S. Army veteran who served in Vietnam, Desert Storm and Iraqi Freedom. He writes short stories and poetry. He is considered to be the most improved member of the group.
"It's therapeutic," Barnes, who suffers from PTSD, said of his writing. "It allows me to release certain feelings. It helps."
Dorothy "Dottie" Littlefield of West Palm Beach is originally from a Texas horse ranch and has been writing for a half century. She writes just about anything and has had several books published as D.M. Littlefield, including Life, Love & Laughter and Enchanted.
Bobbie Valentine has been a member of the group for 14 years and is originally from Ohio. She enjoys writing poetry.
"I've been writing almost my whole life," she said. "I had a rotten childhood — this was escape. I joined the group to have enjoyable company."
Donna Fernandez of Wellington is considered to be the group's poetry expert. She is originally from Maryland and enjoys beekeeping as a hobby. She writes short stories and poetry and has received four awards from the Florida Writers Association. She previously has contributed to parenting and inflight magazines.
"I realized how very rich poetry might make my writing," Fernandez said of her decision to pursue the art.
Virginia Smythe moved to Palm Beach County from the Washington, D.C., metro area in 2004. She enjoys writing short stories with humor and some poetry. "Writing is therapy," Smythe said.
Smythe came to the group after a chance encounter with Guido — with whom she shares a first name — at a local beauty salon. Smythe was given Guido's appointment in error, but a potentially volatile confrontation was avoided when the two struck up a conversation about the writing group.
"Originally, I thought it was homework," Smythe said, but she is now considered a core member of the group.
Karina Felix has one of the more colorful backgrounds of the group. She is originally from the island nation of Aruba where she competed in the Miss Universe pageant. She has been a dancer her whole life and speaks five languages.
Felix moved to Palm Beach County in 2008 where she founded Ingenious Publishers, Danz'n magazine. She is also president of the Palm Beach Holistic Chamber of Commerce. She enjoys writing essays based on observations, opinions and poetry.
Rick Angelini has spent 35 years in Wellington and Royal Palm Beach. He joined the group after reading an ad placed by Rifenberg. He experiments with different writing styles but enjoys short stories and poetry. He is the author of The Christmas Bike. "[The group] is a bunch of nice people," Angelini said. "For a curious person, it's an interesting study."
Don Conway has lived in West Palm Beach for 18 years and is originally from Bisbee, Ariz., where he worked as a self-described "academic expatriate." He has been a member of the group for six years, writing short stories of any genre.
"I've written about the Brooklyn mafia, fairies, the Austrian Anschluss, cowboys and cowgirls," Conway said. "The group is my second family."
Judith Ann Pelio is originally from Queens, N.Y., but has lived in Royal Palm Beach and Wellington for 10 years. She joined the group eight years ago. She writes poetry and what she describes as "emotionally charged" writing. "I love them," Peilio said of the other members. "They're like family."
Shelley Leiman is originally from Long Island, N.Y., but has spent the past 27 years in West Palm Beach. She describes herself as a "novice" and only recently joined the group. She enjoys writing memoirs.
"Don Conway inspired me," Leiman explained. "I always wanted to write. I have so much to get out."
Betty Kult moved to West Palm Beach a year and a half ago from Lafayette, Ind., to be near her daughter. She joined the group after hearing about it at the Royal Palm Beach Cultural Center. "I love it," Kult said. "There's a lot of good writers. They help you and you learn a lot."
The Royal Palm Beach Writers Group meets on the first and third Thursdays of the month from 10 a.m. to noon at the Royal Palm Beach Recreation Center at 100 Sweet Bay Lane. They hold an open mic night the first Monday of each month at Village Music Wellington at 10410 W. Forest Hill Blvd.
For more information, visit www.royalpalmbeachwriters.com.