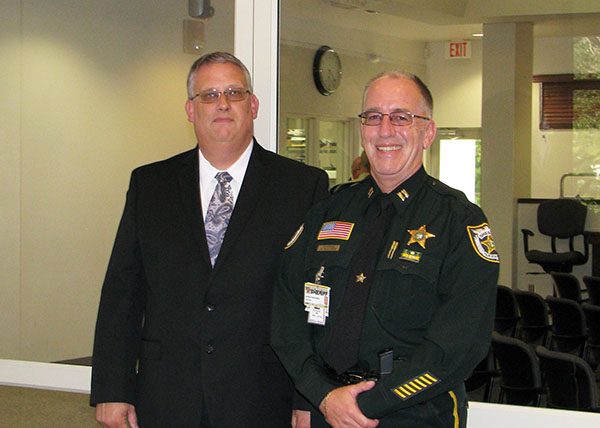 A short, first budget hearing breezed by without comment before the Thursday, Sept. 6 meeting of the Royal Palm Beach Village Council, which discussed several previously contentious items that passed unanimously. The council also received its semi-annual update from the Palm Beach County Sheriff's Office.
Finance Director Stan Hochman explained that the operating millage tax rate of 1.92 percent per thousand dollars of assessed value for the general fund is unchanged from the current year. This figure is 5.86 percent above the rolled-back rate of 1.8137 mills. A 6.2 percent increase in average property values led to an increased budget of $44.5 million. This translates to an ad valorem tax on an average home valued at $204,000 of $296.
Additionally, Hochman said that 82 percent of the budget goes to personnel and contract services, which includes the PBSO annual contract. The village's stormwater fee will increase by $1 per month to $5.50 to fund canal cleanups.
The budget measures passed 5-0 with no members of the public or the council commenting. The second budget hearing and final adoption is set for Thursday, Sept. 20 at 6:30 p.m. at Royal Palm Beach Village Hall. The new fiscal year begins Oct. 1.
PBSO District 9 Commander Capt. Ulrich Naujoks presented a report on all law enforcement activity over the past year in the village.
"There was an increase of 4.2 percent in overall crime in the village as compared to this time last year," said Naujoks, who reported that 162 vehicles were burglarized, with 117 of them being unsecured. "Vehicle burglaries continue to be a challenge to law enforcement throughout the county due to vehicles being left unlocked, as well as vehicle thefts due to keys and key fobs being left in the vehicles."
Naujoks urged residents not to leave valuables in the car and encouraged them to lock their cars. "Efforts to remind people to lock their cars are underway," he said.
Naujoks reported that there were 12,030 calls for service, which is up 3 percent over last year. Statistically, the violent crimes of murder and forcible rape increased by 100 percent, but that figure represented only a handful of incidents — one murder and four rapes, which were acquaintance related.
"The murder was a matricide with a suspect arrested immediately," said Naujoks, who added that there were four robberies, 374 larceny incidents and that driving under the influence arrests dropped from 42 to 33.
Councilman Richard Valuntas thanked Naujoks for the traffic enforcement efforts around schools.
Naujoks asked that residents take extra care driving in school zones. "While [the officers] are there, people drive fine; when the resources leave, people don't drive as well," he said.
The public hearing for plans to develop 106 single-family homes on 4.93 acres of land originally designated for Palm Beach County's LR-2 Low Residential received its second and final reading. The parcel is located on the south side of Southern Blvd., approximately a quarter mile from the intersection of Southern Blvd. and State Road 7.
While several people spoke against the overall project at the first reading, no members of the public or the council had a comment, and the application by Urban Design Kilday Studios on behalf of TLH Developers passed 5-0.
Another issue that generated much discussion at its first reading was a measure to prohibit the retail sale of dogs and cats in the village, define adoption as a transfer for no profit and add a provision for a phase-out period of 18 months for currently operating businesses.
Only one such business is operating in the village, and the owner was not present. At the first reading, he threatened to sue the village over the matter.
Palm Beach County has passed an ordinance prohibiting the sale of these pets, but failed to issue a timeline, effectively "grandfathering in" existing business.
No one against the ordinance came forward to speak, but Tamara Cook, a 20-year village resident who remarked that she has been involved with animal rescue for eight years, said, "We are happy to see that the council is behind us."
She asked for the sunset period to be shortened to 12 months or less. "Nine months would be awesome," Cook added.
The other three speakers were all from outside the village and also advocated a shorter phase-out period.
Councilwoman Selena Smith pointed out that the single retail pet shop that is affected by the ordinance has 18 months to shut down, but if it moves outside the village, the council can revisit the time limit.
Mayor Fred Pinto agreed. "If we get to that bridge, we will cross it," he said.
Valuntas said that his goal is to avoid lawsuits. "Litigation strains budgets and staff time," he said. "It would be great if it were gone tomorrow, but that's not the only consideration."
Village Attorney Jennifer Ashton had recommended 24 months for the phase-out period, but she felt she could prevail with 18 months if a court case became necessary.
"She hasn't changed her recommendation," Pinto said. "We have to be able to defend ourselves in a court of law… We pay attention to what our attorney says."
In other news, Pinto reported that the Western Communities Council, which has been in existence for 26 years and on which he serves, has discussed dissolving itself. The group is made up of representatives from area governments to discuss and lobby on regional issues.
Pinto said that he recommended that everybody go back to their communities and confirm that is the action that the entity wants to take.
He continued that through the years, the Western Communities Council has addressed various regional issues, such as the Callery-Judge Grove project and more recently the State Road 7 extension. "We need to keep the conversation going," Pinto said. "If we don't have a collective voice, we may not have a voice."
After some discussion, Pinto confirmed that the consensus was to keep the Western Communities Council and have an orientation so other, more recent council members can gain perspective and participate.
Also at the meeting, Josh DeTillio, the new CEO of Palms West Hospital, came by to introduce himself to the council and noted that the medical facility has a 10-bed neonatal intensive care unit. "We are here to serve," he said.