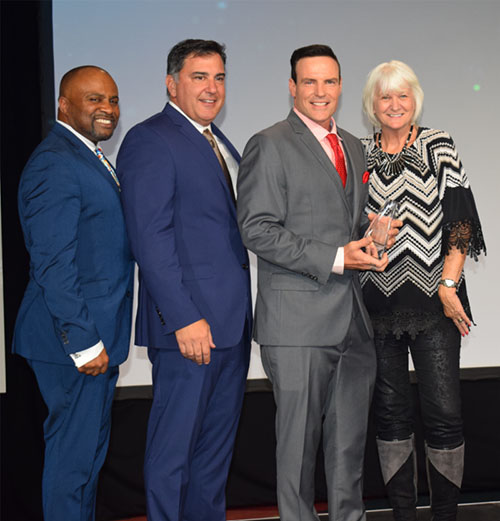 Hip-hop artist, reality television star, philanthropist and Wellington resident Vanilla Ice has been named the 2018 Film Florida Legends Tourism Ambassador. The award, presented by entertainment production association Film Florida, honors those legends in the entertainment industry who are true ambassadors for Florida. Vanilla Ice was honored for his work in music, television and in his community during the Chairman's Dinner at the Florida Governor's Conference on Tourism on Sept. 12.
"Vanilla Ice has been a recognizable artist for nearly 30 years, all the while being a wonderful ambassador for Florida," Film Florida President Bonnie King said. "Starting with his record-breaking hip hop career, which continues today, to starring in his own home improvement reality show to his numerous philanthropic contributions, Vanilla Ice continues to help others and accomplish so much, while representing the state of Florida in such a positive way."
Vanilla Ice released his first record in 1989. A year later the "B" side of that record was released and 72 hours later, radio stations nationwide began receiving requests to play "Ice Ice Baby," forever marking its place in history as the first hip-hop single to reach #1 on the Billboard Hot 100 charts.
Vanilla Ice is also the subject of an upcoming documentary. The film tells the story of the rise and redemption of Rob Van Winkle (aka Vanilla Ice) and is slated for a mid-2019 release.
Vanilla Ice goes out of his way to support and encourage young artists and gives graciously to the community he calls home. He hosts an annual holiday block party in Wellington raising money and collecting toys for children in need. He stars in his own home improvement reality show, The Vanilla Ice Project, now in its eighth season on the DIY Network. In addition, he annually presents the music video award, now named after him, at Florida's largest film competition and awards show for student filmmakers, the Palm Beaches Student Showcase of Films.
Vanilla Ice is also a staunch Teenage Mutant Ninja Turtle fanatic and a motocross and jet ski champion. He has made cameos in several films and continues to perform around the world.
In 2006, Film Florida started honoring legends in the entertainment industry. This is the fourth year the award presentation has been part of the Florida Governor's Conference on Tourism. The award recognizes someone that has achieved great success in the entertainment industry, while also being a great ambassador for the state. Recent recipients of the award include Burt Reynolds, Sharon Gless, and Emilio and Gloria Estefan.