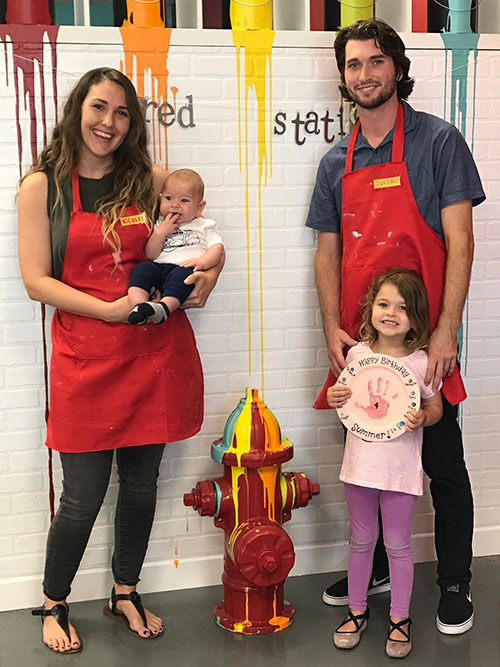 What does a busy young couple, who along with their four-year-old daughter just welcomed a newborn son to their family, do in their "spare" time? Open their own business, of course!
What might seem like an impossible task to others has been a natural move for Nicole and Justin Fuller, who recently opened the Fired Station, a paint-your-own pottery business in the Kobosko's Crossing shopping plaza.
"We knew we wanted to do the pottery studio because there's really nothing like it in Wellington, and it is such a family-oriented community," Nicole said. "I grew up in the Olympia neighborhood, and my parents still live there, so when a space opened up in the Kobosko's shopping center, we knew it was the perfect spot at the crossroads of Wellington."
The young family makes their home in Wellington, too, adding to the appeal of the location.
"It really has been a family affair," Nicole said. "The space became available, and we jumped at the opportunity."
Justin and Nicole's dad and brother worked day and night to strip the interior down to its bare bones and transform the space into a brightly decorated studio that opened in August.
A graduate of both the Dreyfoos School of the Arts and Florida Atlantic University, Nicole is a third-grade teacher on maternity leave. She knows what it takes to run this type of business because she helped work her way through college by managing a paint-your-own pottery studio in Lake Worth.
Nicole is using this time to get the business up and running and loves that the whole family can be together at work.
The Fullers designed the Fired Station for all age groups. "We didn't want it to only appeal to children," Justin said. "We wanted it to be designed and decorated in a way that is attractive to kids, but also feels welcoming to adults who want to come in with their friends or coworkers."
There are opportunities for all ages to have fun and be creative. The studio boasts a wide variety of home décor and functional pottery, including options for kids including boxes, piggy banks, plates and mugs. "Every time you use it, it is a fun reminder of your creation," Justin said.
Popular items are unicorns, mugs, pineapples, sea turtle and other tropical items, plus holiday items. Families and individuals can come in anytime without an appointment, select from among the wide variety of pottery items to paint, and use their own creativity to paint the pottery in their own unique style. After the customer has completed their part, Justin takes over and applies a glossy top coat of glaze to each piece and fires them. The finished product is available for pick up a week later.
"The big reveal of the finished product is really exciting," Justin said. "The kids get so excited, almost like opening a present. I think they're really happy that the items they painted come out with a very professional finish."
The Fired Station offers special events for all ages, such as children's birthday parties, ladies nights, corporate team-building events, outings for youth groups, bridal showers, baby showers and more. Summer pottery painting camps are also planned.
The Fired Station is located in Kobosko's Crossing at 9168 Forest Hill Blvd. in Wellington. It is open Tuesdays through Thursdays from 10 a.m. to 8 p.m.; Fridays and Saturdays from 10 a.m. to 9 p.m.; and Sundays from noon to 6 p.m. Learn more at www.thefiredstation.com, call (561) 557-6953 or e-mail nicole@thefiredstation.com.