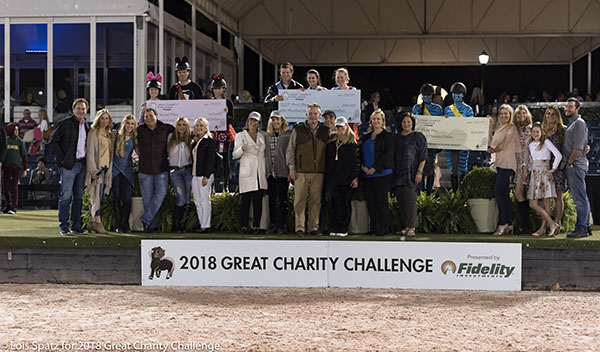 With a strong belief that change happens through the power of communities, Palm Beach County charities will get a chance to inspire and expand their impacts this coming February.
For the past nine years, equestrians and their mounts have been uniting the local community at the Palm Beach International Equestrian Center in Wellington. These teams of riders have one goal in mind: to give Palm Beach County charities a chance to win up to $150,000.
The Great Charity Challenge, presented by Fidelity Investments, is inviting all Palm Beach County-based charities to apply to participate in the event's 10th edition of the pro-amateur relay show jumping competition.
Thirty of these randomly drawn charities will meet their randomly paired teams on Saturday, Feb. 2, 2019, to receive a share of the purse of more than $1 million.
The application process opened at noon on Oct. 15 and will remain active through 5 p.m. on Nov. 15 via www.greatcharitychallenge.com. All nonprofit organizations in Palm Beach County are invited to apply and try their luck.
The GCC, founded in 2010 by Mark and Katherine Bellissimo of Equestrian Sport Productions, and their daughter Paige, has distributed more than $12.2 million from the equestrian community to 230 nonprofits in Palm Beach County. All the money raised gets distributed to local nonprofits every year, with first place receiving $150,000 and all participating charities being guaranteed a minimum amount of $15,000.
Over the last four years, the GCC brought team spirit to a new level by incorporating themes into this yearly celebration. With riders dressed up in costumes and horses adorned to match them, this year's theme of "We are the World" will focus on promoting unity and celebrate the cultural differences in the community. An art contest involving all 12 Wellington public schools will showcase the different causes represented that evening.
"This tenth year honors the diversity in our community," said Mark Bellissimo, managing partner of Wellington Equestrian Partners. "With riders from all over the world, our organization showcases the benefit that comes from embracing each other's differences and unity toward this greater good. This event is truly the legacy of the Winter Equestrian Festival and the sponsors involved. We can't thank them enough for their support."
Paige Bellissimo, who is actively involved in the community, added that the GCC is a unique event.
"It allows us to raise awareness of the diverse charitable organizations throughout the community," she said. "We hope that this year's edition will unite all involved, from the sponsors and riders, to the nonprofits involved, and the community at large. We are very grateful for those who support the effort."
If you know of a deserving Palm Beach County-based charity, have them visit www.greatcharitychallenge.com for full application details and information.
The first drawing to select the lucky charities from those that have applied to participate in the 2019 GCC will be held on Dec. 1 at the Palm Beach International Equestrian Center. For the latest event information and application guidelines, visit www.greatcharitychallenge.com or follow on Facebook at www.facebook.com/greatcharitychallenge.