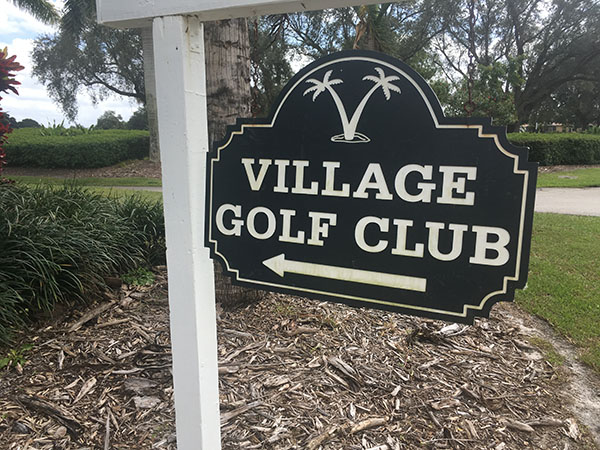 A month after proposing a similar golf course redevelopment in Wellington, developer 13th Floor Homes is pitching a partial redevelopment of the Village Golf Club in Royal Palm Beach.
The Broward-based developer has informed nearby residents of its proposal to develop residential housing on part of the Village Golf Club, which is located east of Royal Palm Beach Blvd. and north of Okeechobee Blvd.
13th Floor Homes distributed fliers in the neighborhoods near the golf course and invited the community to discuss the proposal on Tuesday, Oct. 30 at the Village Golf Club clubhouse (122 Country Club Drive, Royal Palm Beach). The open house will be held from 4 to 7 p.m.
13th Floor Homes is a niche real estate development firm specializing in entry-level housing and repurposing underutilized golf courses. A recent proposal by the company to build homes on the defunct Palm Beach Polo & Country Club north course in Wellington was met with sharp opposition from area residents in that community.
The company did not respond to requests for an interview. However, a web site has been set up giving information about the project at www.villagegreenfl.com.
"Unlike other development companies, 13th Floor Homes wants to seek public input before purchasing the property to ensure that the vision plan aligns with community wants and needs," according to a statement on the web site.
The proposal would build villa-style homes and single-family homes on portions of the golf course closest to Okeechobee Blvd., leaving a nine-hole golf course on the northern portions of the existing 18-hole golf course. It is unclear who would operate the nine-hole course.
Judging by the generally negative reaction on local social media sites, the developers might have a hard time arriving at a plan that aligns with community desires. Area residents interviewed by the Town-Crier were also skeptical.
"It's a stupid idea," said Dennis Rowe, whose 87-year-old grandmother's backyard is at the north end of the course.
Edith Rowe, who built her golf course home in 1988, agreed. "If they remove the 18-hole course, my property value suffers. Our entire family is planning to turn out at the public meeting against any redevelopment."
Rachel Ortiz Bibey is a La Mancha resident who has lived on the golf course for more than seven years.
"They should not be adding any more people," she said. "All the wildlife is fighting to find new territory already because of all the building. Money is not everything. Protect our beautiful views and all the wildlife that call it home. If the golf course closed, I would love to see the land become a park."
Village officials stress that Royal Palm Beach is not involved at all in this project, at least not yet. This is more of a developer exploring how receptive its proposal would be to the community, Royal Palm Beach Director of Planning & Zoning Bradford O'Brien explained.
O'Brien confirmed this week that the village has not received any formal applications or written proposals from the developers. He said that before any construction could start, the development team would have to seek changes to the village's comprehensive plan, and then get approval from the Royal Palm Beach Planning & Zoning Commission and the Royal Palm Beach Village Council. "The fastest-case scenario would be about nine months from application to approval," he said.
According to the developer's web site, the general plan is for "a newly redesigned and modern nine-hole golf course open to the public, exclusively residential for-sale homes (no commercial, retail or rentals) and, ultimately, the removal of the cloud of uncertainty that exists surrounding golf course properties in Palm Beach County today."
The National Golf Foundation, based in Jupiter, reports that demand for golf peaked in the United States around 2006 when 30 million regularly played. About 24 million played last year. "The golf course building boom between 1986 and 2005 was so significant — more than 4,000 new golf courses were built in this country during that 20-year period — that golf remains very well supplied in most markets in the United States, and certainly in Palm Beach County, which has among the nation's highest golf holes per capita ratios," said Greg Nathan, chief business officer of the National Golf Foundation.
Less demand, mixed with an oversupply of golf courses, has led to many golf course closures. When the old Tradition Golf Course closed a decade ago in the southern area of Royal Palm Beach, the village ended up buying the land and developing a park.
Mark Rodgers, director of golf at the nearby Madison Green Country Club, wonders if there is a market in Royal Palm Beach for a nine-hole course.
"If they could not make it as an 18-hole course, how are they going to operate sustainably as a nine-hole course?" he asked. "Here at Madison Green, we have almost no demand for only nine holes,"
Golfer Steve Marotta, interviewed while practicing at the Village Golf Club, did not favor the nine-hole concept.
"If they turn this place into nine holes, I have zero interest in playing here again," he said.
Marotta decried the closure of quality public courses, like the Village Golf Club, and hopes that it stays open for the community and for the many school golf clubs that use the course for practice.
Area resident Daphne Wiley hopes that Royal Palm Beach officials do not allow residential development at the Village Golf Club.
"Regarding the Palm Beach Polo north course, Wellington residents came out against it, and Wellington council members said that they wouldn't approve a zoning change without significant resident approval," Wiley said. "Unfortunately, I'm scared our Royal Palm Beach council may not have the same backbone."