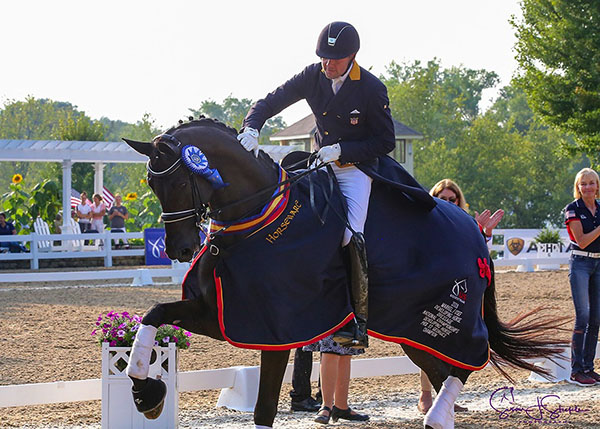 Endel Ots and Lucky Strike earned many congratulations after winning the Markel/USEF Developing Horse Prix St. Georges Dressage National Championship with a score of 72.794 percent, which was held recently at the Lamplight Equestrian Center. While this is not Ots' first victory at the U.S. National Championships, this one had something special about it for Ots and his family.
Ots and his father, Max Ots, have owned Lucky Strike, an eight-year-old Hanoverian gelding, since he was three years old, and Ots has been the sole rider and trainer. Having had great success thus far with Lucky, such as winning the Markel/USEF Six-Year-Old Dressage National Championship in 2016, winning this year has a little more meaning to Ots.
"For me, this is the beginning of his FEI career," he said. "To be able to show the talent I felt inside him the first moment I sat on him was very emotional."
Getting to compete against the very best in the nation and seeing all the competitors come together is the real highlight of the U.S. Dressage National Championships. "I love seeing all the horses develop over the years. To be able to go back year after year and see the constant improvement of the horses is a wonderful thing. Christine Traurig has been such an instrumental force in that process," said Ots of his experience over the course of several championships.
Going forward, Ots is heading home to let Lucky enjoy some down time in the pasture and some hacking around the South Florida canals, before setting their sights on trying for the Pan American Games next year.
When it comes to achieving goals, Ots is no stranger to working hard to make them become a reality and gave this advice to riders hoping to one day compete at a high level.
"Look for any opportunity to be able to get here. I have competed here on many horses and have had the good fortune to be able to win a few different times. Every time I have come it has helped to improve my riding and has given me a new perspective on something to work on," he said.
Originally from Wisconsin, Ots now calls Wellington home. He has been competing since a young age and has been enjoying international victories for the past several years. He is known for his talent and ability to give a leg-up to younger riders and bringing along impressive sales horses. For more information, call (920) 562-5714, e-mail endelots@gmail.com or visit www.endelotsdressage.com.