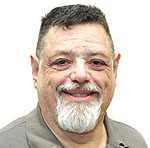 'I' ON CULTURE
Kevin Hart and Tiffany Haddish are two of the funnier actors in Hollywood, and teaming them up in Night School seems like an intelligent move. The good news is that they are funny; the bad news is that the film has been over-written. With six writers listed, the story has been reduced to a series of skits. Nevertheless, it makes for a good time.
Teddy Walker (Hart) does exactly that at the start of the film, walking out of the standardized test required for high school graduation as the words and numbers dance around in front of him. But with an enormous personality, he becomes the star salesman at a company selling gas grills and patio furniture. The boss pays well, and even tells him that he will inherit the business. He has a stunningly beautiful girlfriend who he plans to marry. Lisa (Megalyn Echikunwoke) is a very successful public relations specialist, and Teddy overspends to impress her. Things are good, too good. He blows up the store while proposing and is now out of work, something he will not admit to Lisa.
Teddy can't get a job as a high school dropout, so he goes to night school for a GED. He meets up with his old nemesis from high school, Stewart (Taran Killam), now the principal who tells him to go away, but teacher Carrie (Haddish) welcomes him into her night school class, filled with strange folk. Included are a large white hulk (Rob Riggle), a Latino ex-waiter that Teddy had fired (Al Madrigal), a repressed housewife who dropped out to have kids (Mary Lynn Rajskub), a brilliant girl (Anne Winters) kicked out of school for drugs who needs to get a GED to stay out of prison, a conspiracy theorist convinced machines are taking over (Romany Malco) and a convict (Fat Joe) sitting in from prison using Skype. Haddish is the put-upon teacher and is very funny.
Teddy discovers that he is dyslexic, with a whole other list of problems that get in the way, and using a therapy that is funny, although hardly acceptable in the real world, Carrie gets through to him. But thanks to plotting by Stewart, Lisa finds out that Teddy has lied to her about what's going on, and the movie becomes far more intense. There are more than a few unexpected twists along the way.
The gags are pretty obvious and there are a lot of gaps where things sag a bit. But a really good cast overcomes everything. Hart is a great comic, generally the everyman who wants to improve his life. His timing takes standard gags and turns them into really funny ones. He has an inherent decency that seems to show through, one that encourages us to like him. Haddish has a role that should have made her nothing more than a straight woman for the gags, but her delivery is so good using that gravelly voice that she gets plenty of laughs. It is difficult to be the bad guys; demanding a lot from our hero and the ragtag group of others but, as an old-time teacher myself, I can tell you that Haddish comes across as real and put-upon. And when jokes are needed, she is ready.
The supporting cast sets the film apart from so many others. Each actor creates a separate, indelible image. Rajskub, who often descends into Fifty Shades of Grey language, is a hoot. She has an attempted seduction scene that almost caused me to fall out of my seat. Riggle was perfect as the big dummy. Malco managed to get huge laughs, as did Madrigal. Echikunwoke makes her part way more than a stereotype. And Killam, as Teddy's nemesis, not only gets laughs but raises his character far higher than the simple stereotype.
The script has its weaknesses; a sub-plot involving Teddy's parents mostly droops, and there are a few set pieces that are too long. But some of the gags, including Teddy's turn wearing a chicken outfit, are great.
I found a lot of surprises at the movie but the biggest was that I really enjoyed it. It is hardly a great movie, but it was good for more than a few laughs.