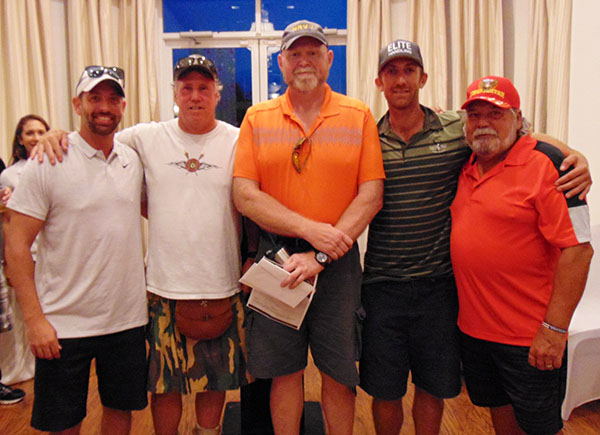 It was a day filled with fun and golf for a good cause at the fifth annual Palm Beach County FOOLS Golf Classic presented by Chris Allen Realty and IAFF Local 2928 at the Madison Green Country Club on Saturday, Sept. 29.
The tournament champions were A.J. Takacs, Dave Thompson, Travis Owens and Jesse Ferguson, who finished with a 19-under 53.
Jon Snowden, Dr. Rajen Naidoo and Josee Brousseau placed second at the event with a 56.
A field of 35 teams participated in the tournament, which featured several hole-in-one opportunities and the popular long-drive launcher on No. 11 with inventor Phil Noblin. The event raised more than $11,000, according to tournament co-director Richard Kingston.
The Palm Beach County FOOLS (Fraternal Order of Leatherheads Society) is a nonprofit organization of area firefighters established to help fellow firefighters and those in need in their communities while bringing back tradition, honor, pride and brotherhood into the service. The Firefighter Fund honors local firefighters who have been killed, injured or become sick while serving their communities in Palm Beach County.
Proceeds from the golf tournament allow the FOOLS to provide personalized toys for seriously ill children who are hospitalized during the holiday season, which Santa delivers on an antique firetruck.
The FOOLS also help bring in a group of Wounded Warriors from Washington, D.C. to West Palm Beach for a weekend of fun and relaxation.
Major sponsors were presenting sponsors Chris Allen Realty and the Professional Firefighters/Paramedics of Palm Beach County IAFF Local 2928; gold sponsor Cast Home Loans; golf ball sponsor IdentiFire Safety, beer sponsors Mellow Mushroom Wellington and Delivery Dudes Royal Palm Beach; and luncheon sponsor PDQ Wellington. Other sponsors included American One/1-800 Board Up, Retired Firefighters of Palm Beach County, Tito's Vodka, Brass Ring Pub, John G's Restaurant and Hampton Inn Wellington.