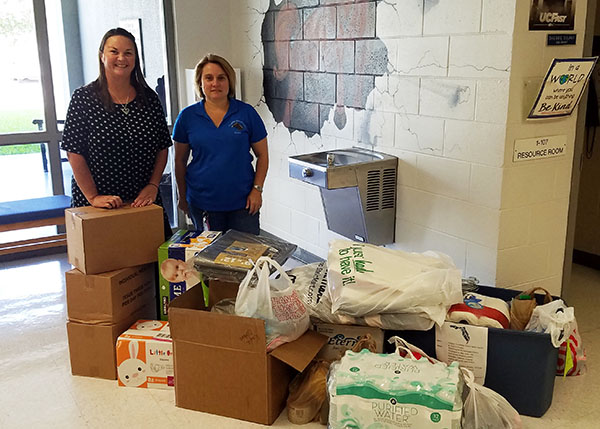 Frontier Elementary School's safety patrol has a project going with the help of local donors to take collections of supplies to the victims of Hurricane Michael in North Florida who are still digging out of the debris from the powerful storm earlier this month.
"The response has actually been very overwhelming," teacher Sherry Dulany, co-coordinator of the school's safety patrol program sponsoring the drive, told the Town-Crier on Tuesday. "We took a truckload yesterday. We have an entire truckload today, and the lobby is overflowing with things. It's multiple trips."
She added that a family from Boynton Beach heard about the effort and drove up with a carload of supplies — and inquiries are even coming from places much farther away.
"I received an e-mail last night from California from someone who saw it on the WPTV web site and wanted to mail us stuff," Dulany said.
She has lived in Florida all her life and relates to the suffering in North Florida.
"I've never lost everything like those in [Hurricane] Andrew, but I've gone through them and seen the devastation," Dulany said. "My husband is a contractor, so he did a lot of work down south with rebuilding from Andrew. We've done the whole no generator, take a bath in your pool because of the water, but it was nothing like complete annihilation."
Dulany said that the two people who are transporting the supplies are volunteers who wish to remain anonymous.
"They have been taking in donations for gas, but when I donated for gas, she shared with me that it wasn't to cover their gas," Dulany said. "It was to cover the gas for filling the gas cans that were being donated so they could take the gas to the victims, so they could run their generators. So, it's completely funded by the gentlemen taking the supplies."
They have already taken several shipments to a drop-off location in North Florida.
"With the amount of donations that are coming forth right now, they have someone who is going to loan them a semi to take this next [shipment]," Dulany said. "At first, they were going just to assess the situation and see if they could get through and determine what were the immediate needs, to let us know what to send and take. They just had a 'dually' with a covered trailer with the initial set of supplies, and they drove those up there, and they came back last night. With the amount that's being collected, they're looking at a local business willing to donate a semi to them for their use to haul it up there."
Dulany added that Osceola Creek Middle School, located next door to Frontier, has joined in the collection effort, as well as Crestwood Middle School in Royal Palm Beach.
"Crestwood Middle School had intended to send their supplies through [U.S. Sen.] Bill Nelson, but they needed them that day, so once they heard our story, they contacted me and asked if they could bring their items here on Friday," Dulany said. "There's stuff from a condominium association that is going to bring us items this week, and then our families — I had a lady bring in almost the entire vehicle full just from her. She brought diapers, water, sanitary napkins and baby wipes. She just went to Costco, bought the items and brought them."
Dulany said cleaning products, tarps, gas and gas cans are primary items needed.
"They need a lot of gas cans to be filled with gas, because some people with generators are unable to operate them due to not having fuel, or the chain saws that they need," she said. "Obviously, they are not going to have electricity to plug [in] any power tools."
There is little or no refrigeration, so non-perishable food is also necessary to be sent, as well as water.
"I'm just amazed at the generosity of so many people who are coming by and willing to bring so many items for people they don't even know, which makes America great, coming together and being there for each other," she said.
For more information, Dulany can be contacted by e-mail at sherry.dulany@palmbeachschools.org.