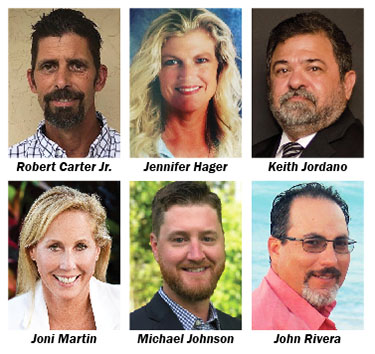 The Town-Crier asked a question this week to the six people running for three seats on the Indian Trail Improvement District Board of Supervisors. The election will be held Nov. 6. Answers to another question will be published in the Oct. 26 issue. This week's question: Tell us about your background and what makes you the most qualified candidate to sit on the Indian Trail Improvement District Board of Supervisors?
ITID Seat 1
Robert Carter Jr. — I was born in Pennsylvania. While attending elementary school in the north, I started my first job at the tender age of 6 plowing snow, which began my lifelong career in the heavy equipment industry and land development. A few years later, our family moved south to Florida and made Palm Beach County our home.
After settling down in The Acreage, my father started his own trucking and land excavating family business. At the age of 8, I began working and running the heavy equipment alongside of my father. I then moved on to several large companies in the same industry. In 1996, I started my own business with a $5,000 front-end loader and myself as the operator. Since then, it has grown into a multi-million-dollar a year business.
I believe my work ethics and customer satisfaction speaks for itself. Just look around The Acreage and you will see many jobs that we have done — from the small jobs in The Acreage that we do to keep our local builders working to the large, full-scale commercial jobs for some of the biggest contractors in Florida. We also do large-scale equestrian trails, barns and arenas.
I've watched The Acreage grow from dirt roads to paved roads and was involved in the development of such roads as Seminole Pratt Whitney Road, the State Road 7 extension, Coconut Blvd. and Royal Palm Beach Blvd. With the jobs I've done in The Acreage and the time I've spent living here, watching its growth and drainage and roadways, I have a tremendous amount of knowledge about the entire infrastructure. My background and knowledge should speak for itself.
I am the proud parent of two wonderful children and spent many years involved with this community, from sponsorship of the Acreage Athletic League since 2000 to disaster and hurricane cleanup efforts. In addition, I have had a good, long-term relationship with officials throughout Palm Beach County.
Jennifer Hagar — I have lived in The Acreage since 2005. My husband and I have a son and a daughter, ages 23 and 20, respectively. We also have five fur babies and horses. I have been employed by the School District of Palm Beach County, teaching at Cholee Lake Elementary School, since 2006. Currently, I teach fifth-grade science and writing, but have spent prior years teaching in the school's science lab.
In 2010, I was elected to my first term at Indian Trail Improvement District and was re-elected in 2014. With eight years of experience, I feel more than confident and secure in my abilities to make sound decisions on behalf of the works of the district and in the best interest of its residents. I have heard a sundry of concerns from residents, and I have worked with county and state public officials, representatives and elected officials on behalf of our Acreage/Loxahatchee way of life. Preserving this lifestyle is one of my primary motivators in seeking re-election to a third term.
Working well with others is paramount to the position of a supervisor. For eight years, I have demonstrated the ability to operate in fairness and fidelity, with transparency and respect, and whole-heartedly with genuine love for where I live and the people I call friends and neighbors. My voting record over the past eight years speaks volumes for itself. When casting a vote up on the dais, I do so with knowledge of the issues at hand and with significant concern for how my individual decision will impact thousands of residents. I make sound, conscientious decisions with an open mind, from my heart. I make decisions that I would want any other supervisor to make on my behalf.
I am the most qualified candidate for Seat 1 on the Indian Trail Improvement District Board of Supervisors.
ITID Seat 3
Keith Jordano — My leadership experience has given me the perspective to lead while not getting in the way of the people hired to do the work.
My professional experience in construction, logistics and management has taught me to understand the operations and maintenance of the district, and the knowledge of what needs to be done to improve our quality of life.
My education and military training has taught me valuable lessons in leadership, management, working as a team and respect for others.
My personal life has taught me to be grateful for my beautiful family, the area in which we have chosen to live and work and to "accept the things I cannot change, the courage to change the things I can and the wisdom to know the difference."
My leadership experience includes past president of the Acreage Landowners' Association, Royal Palm Beach Rotary and the Unity for Kids inclusionary school, as well as past vice president of the Palms West Chamber of Commerce, Palm Coast Health Underwriters and the Palm Beach Association of Insurance & Financial Advisors.
I am a graduate of Leadership Palm Beach County and Leadership West Palm Beach. My professional experience includes work as a government consultant for the U.S. Department of Energy and Department of Defense; foreman and machine operator for the Jordano Construction Company; and president and CEO of the Jordano Group (28 years). My military and education includes 10 years in the U.S. Naval Reserve Special Forces and a bachelor's degree in business administration from Loyola University.
Personally, I have been an active Acreage resident since 1999. I have been married 22 years and have three children. I am a parishioner at Our Lady Queen of the Apostles.
Joni Martin — I am a proud resident of Loxahatchee. I love my neighbors, the friendliness and camaraderie of this area. I want to bring that spirit to the Indian Trail Improvement District in a positive way. In my 20-plus-year career in retail, I used my communication skills daily, being diplomatic when necessary. As a mom and an animal rescue advocate, I am a deeply caring person who strives to make things better. I feel that my particular blend of communications skills, diplomacy, caring approach and strong work ethic will be an asset to the ITID board.
For more information, visit my web sites at www.jonimartin.net and www.facebook.com/electjonimartin.
ITID Seat 5
Michael Johnson — I grew up in a small farming town in Michigan about 45 minutes outside of Detroit. Everybody knew everybody, and everybody knew the value of a dollar and an honest day's work. I was raised with the belief that integrity and drive would be essential in becoming a good man and American; I still hold those beliefs true today.
I moved away from home for my college internship at 26 years old. Coming from a small town in Michigan to South Florida was a culture shock, to say the least! However, once I settled in here, I knew that I had found my forever home. I took my Michigan skill-set and began working on a produce farm in Belle Glade. I decided that I needed to move closer to work and fell in love with the Loxahatchee area. This area is my home. The people, the sense of community, the small businesses… all of it made me want to plant my roots and start a family here. The small-town feel is alive and well here, and I want to maintain that quality of life if I am honored with an Indian Trail Improvement District seat.
Loxahatchee is a special place in which to live, and I feel as though I am the most qualified candidate for my seat. I have no personal gain to make from this. All I want is to ensure that throughout the growth we will inevitably have, we will still maintain our sense of community and spirit we all know and love about our community.
John Rivera — My name is John Rivera. I have been in the Acreage/Loxahatchee area since 1999. Since then, I have raised four children and have been blessed with two granddaughters. I became a business owner in 1997 and have continued a successful business since then, while also being involved in the equestrian community.
I have been a dedicated volunteer for a local horse organization known as the Acreage Horseman's Association for nine years. It has not only helped me and my family, but has also given other adults and their children a friendly atmosphere to keep the horse community active. As its president, I wanted to give the horse community the opportunity to engage in fun, yet competitive seasons of different types of disciplines, equestrian clinics and trail rides. We always made sure to incorporate benefits, holiday celebrations and banquets. Because of this, I have been also involved with the ITID board for many years, whether it was to speak at a board meeting about an equestrian issue or just a community issue. I am currently involved in a co-ed softball league at Acreage Community Park, which allows adults to get out and be involved.
My wife and I plan on staying residents of The Acreage for many more years, and I believe that my background in serving the community has given me a large amount of knowledge and understanding of what we need and how we can continue to make The Acreage great again. I am passionate when it comes to the equestrian community, and I can see that we are losing it.