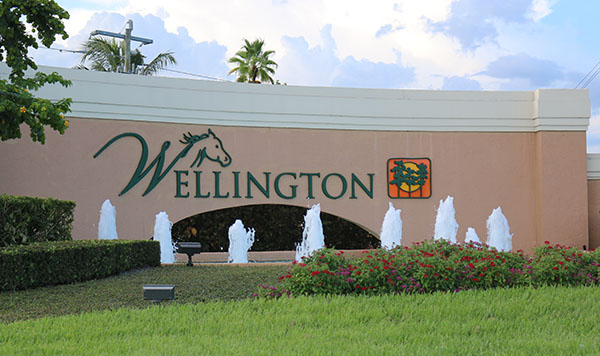 The Village of Wellington prides itself on being a great hometown. The village's A-rated schools, low crime rate, abundant parks and quiet neighborhoods are a draw to residents throughout Palm Beach County, the state and, indeed, the entire country. Unfortunately, the lack of available and affordable housing has become a problem for many families, seniors and businesses.
Assistant Planning, Zoning & Building Director Michael O'Dell recently spoke in detail with the Town-Crier on the subject.
Statistics show that millennials (ages 16 to 34) and baby boomers (ages 54 to 70) have something in common — a desire for smaller, one- or two-bedroom homes. These include condos and rental units. However, the village does not have the supply to meet the increasing demand. "The village is lacking in one- to two-bedroom units," O'Dell said. "Only 23.5 percent of the units in the village are of this size."
While many baby boomers and older seniors would prefer a smaller unit, the lack of availability in Wellington has caused them to remain in their homes. As a result, many of these homes have fallen into disrepair and require the use of grant programs to bring them back up to code — particularly when it comes to the replacement of the roof.
"It is a burden on the elderly to keep up with their homes," O'Dell said. "As a village, we can only do so much."
One such development targeting seniors is Devonshire at Wellington Green, located south of the Mall at Wellington Green. However, at the Sept. 13 meeting of Wellington's Senior Advisory Committee, members of the board said that the prices there, and at other similar developments, are too high for many local seniors to afford.
Although housing prices in the village remain in the top third of Palm Beach County, with a median price of $327,000, houses built in the 1970s and 1980s have not fared as well. These homes, clustered fairly close to Forest Hill Blvd. in central Wellington, represent 38 percent of the units in the village. They only command 86 percent of the median price.
The cause of this price drop is the fact that many of them have not been upgraded to modern tastes. For example, a kitchen renovated in the 1990s by someone who purchased the home in the 1970s might feel "new" to the homeowner but would feel dated to someone home shopping in 2018.
According to O'Dell, employers in the village have voiced concerns about their employees being unable to find suitable housing within Wellington. Of note are medical technicians and medical workers. Many of these employees have been able to move into the village through rental communities.
Robbin Lee, CEO of Wellington Regional Medical Center, praised the development of more rental units in the area.
"We have been very supportive of the new rental communities in our area, such as the Quaye," Lee said. "They are high quality, family oriented and have helped some of our employees to relocate. We are hopeful that if the demand continues, then we will see more options of this caliber."
The lack of available housing to purchase has resulted in an increase in the rental market. Due to the strict zoning regulations, it is difficult for a developer to construct new rental properties in Wellington. However, there are some, including Axis Wellington Green and the Estates at Wellington Green near the Mall at Wellington Green; Polo Lakes on the north side of Forest Hill Blvd.; and Solara at Wellington and Waterstone at Wellington off South Shore Blvd.
"People are struggling to move into rentals — the rates are high," O'Dell said.
These rentals are professionally managed by large corporations that screen their applicants in the way of employment verification, credit checks and background checks. However, with occupancy rates and rents increasing, there has been a growth of rental properties owned by real estate investors and homeowners who do not apply the same standards.
This had led to the perception, and in some cases reality, of safety issues in communities with more unregulated rentals. Over the last decade, Wellington officials have worked with the Palm Beach County Sheriff's Office on its Safe Neighborhoods initiative to combat this problem.
Perhaps in no neighborhood has the renter-versus-homeowner issue been more visible than Folkstone/Yarmouth, where a village meeting in August concerning the development of a park broke down over the divide between homeowners and renters.
"There were a tremendous amount of corporate buyers during the downturn," O'Dell explained.
This has resulted in dynamic shifts in neighborhoods overnight, where residents would discover a neighbor's home was sold and suddenly four to eight people were renting it. For many long-term owners, this has been a growing concern, but for the renters, they view it as their only way to reside in Wellington and have their children attend the village's top-rated schools.
"We talked to residents," O'Dell said. "They want schools, parks and safety. One resident had a son in high school and moved for football from Riviera Beach. A bullet in their house [in Riviera Beach] just missed their youngest daughter. They are working, with four children, and living on Yarmouth. They are doing everything they can to stay in the unit."
Another issue is that some of the landlords are only following the minimum building code while others are not following it at all.
"Enforcing from the exterior is difficult," O'Dell explained. "If a resident complains, I expect the landlord to respond. A landlord shouldn't give lip service."
O'Dell went on to detail the story of a renter who had been forced to live with mold and explained how many tenants are afraid to report their landlord for a code violation for fear of being evicted. Several of these rentals do not have formal leases or contracts and are simply paid month-to-month in cash.
"Our code enforcement separates the village from other municipalities," O'Dell said. "We take it more seriously. We want good landlords. These are positive and good things."
Wellington's rental population is expected to increase. According to O'Dell, of the approximately 24,500 homes in the village, there are 2,950 rental properties. There are 1,784 single-family homes for rent. There are also 1,166 non-managed rentals in the village.
For a complicated problem, there are no apparent solutions. There is scarce available land zoned for development, and it is likely that developers would choose to build expensive, multi-family homes on that land, rather than the smaller units that the population needs.
Such development would take place on State Road 7, with room for an estimated 3,500 to 3,800 dwelling units. With an average three residents per dwelling, that buildout could add another 10,000 to 12,000 residents.
O'Dell predicted that it will take another economic downturn for investors to come back in and redevelop the properties. "Not today or tomorrow," he said. "Today's market doesn't allow it."