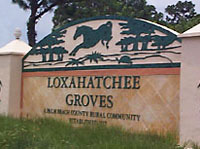 Residents had many comments for the Loxahatchee Groves Town Council about a workshop planned for Tuesday, Oct. 9 to clarify the language of a proposed referendum question to get the town long-term bonds for road repair after a previous attempt in August was soundly defeated by voters.
The plan for that bond money was to get long-term loans for residents who want their road paved. Those residents would have been able to borrow the money and pave roads through a cost-sharing plan using the town's gas tax money.
The consent item had been pulled for discussion after former Loxahatchee Groves Water Control District Supervisor John Ryan put in a comment card.
"The voters out here by more than 60 percent said they didn't really trust or feel comfortable going forward with the town borrowing money at this time, so that may be a little premature," Ryan said.
He added that the town had missed the 10-year time frame mentioned in the charter for a total charter review by a committee, and he suggested that the workshop be directed toward broader measures.
Ryan also suggested that the town discuss dissolving itself.
"I think that with all the concerns that have developed over the last couple of years, one of the other items on the workshop is it may be time to discuss a referendum to really look at dissolving the town due to its failure to live up to its charter operations and objectives," he said.
Resident Robert Shorr agreed with Ryan's comments regarding another road referendum.
"I don't want to see anything on a referendum about paving roads in 10 years," Shorr said. "It was voted down; drop it. They voted it down for a reason. There are a couple of things that need to be changed in the charter."
Shorr disagreed with the idea that the town should consider dissolving. "The county will come in and every single 10-, 20-, 30-, 40-acre parcel will have as many houses as you could possibly shake a stick at," he said. "I personally don't want to see that, but a property owner could probably make a killing."
Shorr added that after the recent culvert installation on North B Road, one of the roads that had been scheduled for paving, is in much better condition.
"I don't think they're that desperate out there on North B Road to pay a lot of money for 10 years," he said.
However, B Road resident Mary Ann Miles said she was angry at the amount of time and energy that the people on her street had put in trying to get their road paved, only to have the referendum fail.
"The people were willing to put in their hard-earned money to pave a road so they can use it, and everybody else can use it," Miles said. "North B is a thoroughfare. We get traffic from all over. We get traffic from The Acreage. We get traffic from North Road."
Miles felt the previous referendum failed because not enough people understood what it was about.
"I feel we should let it go again and let the people find out about it," she said. "There has to be some way that the referendum can be written for our roads to get done."
Miles pointed out that the roads are in good condition now because the rain has not been so intense.
"We don't have a lot of fill," she said. "The holes were filled in, yes, but we're still in need of a lot of fill. With the three inches that were put in on B Road, as soon as the grader hits it, it's not going to last."
Former Councilman Ron Jarriel agreed that the charter needs to be reviewed. "Hiring employees was not in the charter, and borrowing money over 10 years was not in the charter," he said. "I find it hard to believe that between now and March, you cannot find a way to do a referendum as far as individual roads."
Vice Mayor Todd McLendon made a motion to hold the workshop on Tuesday, Oct. 9 at 6 p.m.
"It can be very specific, where the only people that are going to pay for this 10-year loan are the ones who vote for their road to get paved, and that's the whole reason for the workshop," McLendon said, adding that the previous referendum failed because many people believed that the approval would allow the town to take out long-term loans for anything.
He pointed out that people on roads not scheduled for paving would not be affected.
"The only difference is we can double the amount of work that we can do if we get the landowners to pay 50 percent," McLendon said. "The only way to do that is to change the town charter to allow us to borrow for 10 years, because those people cannot afford to pay a loan back in three years."
Earlier in the evening, Miles asked if the town could get cost comparisons for North B Road paving with asphalt or open-graded emulsified mix (OGEM). "Something else other than dirt," she said.
Town Manager Bill Underwood said that all he had seen was a conceptual plan for North B Road.
Miles said that March would come, and she was concerned that the people who want paving would have to start the process all over again and wanted a firm estimate of the cost sharing to residents.
"It costs money for the referendum, and it costs too much if it costs $240 per acre per year," she said. "I guess I want to know what the cost is, so then we can go from there whether we even bother with the referendum or not."
Vice Mayor Todd McLendon said the meeting Tuesday would determine whether to go ahead with another referendum in March to ask the question again of residents whether to change the charter to allow the town to take out loans with terms longer than three years.
"It's not just for B Road," he said. "The cost is going to change between now and March."
Mayor Dave Browning pointed out that residents had voted down giving the town the ability to float a long-term loan, and the goal now is to find more concise language that voters will accept.
Councilwoman Phillis Maniglia also asked about the option of using millings on dirt roads, as opposed to shell rock, aggregate or coquina, and Browning said that was a possibility with the work going underway on Southern Blvd.
Maniglia added that she understands Miles' concerns about cost and would like some estimates on the proposed costs of the different alternatives. But DeMarois said there are other residents who have petitioned to have their roads paved, including Los Angeles, San Diego and Raymond drives, 22nd and Flamingo roads and Paradise Trail.
Maniglia pointed out that North B Road is the only through road and was in the most need of improvement. "It was the worst road in town, in my opinion," she said.
"That's why the drainage went in there first," McLendon said.