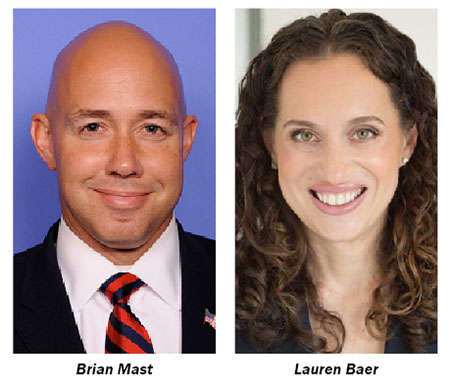 The race for Florida's 18th Congressional District is among the most closely watched in the nation because of its potential to switch from red to blue next month.
Until 2016, the seat was held by Democrat Patrick Murphy, who opted for an unsuccessful bid to challenge U.S. Sen. Marco Rubio instead of seeking re-election. Republican Brian Mast replaced Murphy and is now running for re-election against Democratic candidate Lauren Baer.
The district includes all of Martin and St. Lucie counties, along with northern portions of Palm Beach County, including parts of Royal Palm Beach and all of The Acreage.
Mast is wrapping up his first term representing the district, having won the seat in 2016 with 53.6 percent of the vote. Mast is a highly decorated military veteran who lost his legs while deployed as a bomb disposal expert in Afghanistan.
Baer is a graduate of Harvard University, Yale Law School and has a degree from the University of Oxford, where she was a Marshall Scholar. She attended local public schools and was the valedictorian of her graduating class at Suncoast High School. After several posts in the Obama administration, she is currently a consultant for the global strategy firm Albright Stonebridge Group.
The Town-Crier reached out to each candidate now that the general election is upon them, asking them to speak directly to the voters with the message they would like to send to them.
BRIAN MAST
Mast feels that God had a plan for him to be a fighter.
"I believe that God built me to fight, which is why I have lived my life always fighting with all I have for the most worthy causes I could find," Mast said. "When I was serving in the Army, I drew strength from working together with my fellow soldiers, regardless of their ideology or background. We all worked toward the same common goal of protecting the United States."
A devastating injury caused Mast to fine-tune his lifetime goals.
"I intended to spend the majority of my career serving in the Army, but when I was injured, I had to come to grips with the fact that I would never be an asset again on the battlefield. While I may have lost this physical ability, I didn't lose my purpose. That's when I set out to find another opportunity to serve our country," Mast said.
He is proud of his new career in public service.
"In Congress, I've brought this service-before-self mentality to the fight for our waterways, for veterans and for seniors," Mast explained. "For our water, we've passed legislation to authorize the EAA Southern Storage Reservoir and force the U.S. Army Corps to re-do their discharge schedule, as well as secured hundreds of millions of dollars to fight toxic algal blooms and restore the Everglades."
He has also worked to help veterans and seniors.
"For veterans, I opened the first-ever congressional office inside a VA facility at the West Palm Beach VA and wrote a new law to prevent critical veterans' benefits from expiring," he said. "For our seniors, I've fought to protect Medicare and Social Security, as well as passing legislation to crack down on fraud targeting seniors."
Mast distinguished himself from his opponent with their differing views on healthcare.
"Another fundamental difference between my opponent and I is on healthcare. I believe in healthcare freedom: more choices, lower costs and the elimination of the individual mandate tax," he said.
Mast asked voters to put their trust in him for a second term,
"This is the bottom line: I not only believe in but have delivered results to restore power to the people, reduce government interference in people's lives and increase transparency," he said.
For more information, visit www.mastforcongress.com.
LAUREN BAER
Baer said that she is proud of her multi-generational heritage in the area and her reputation of working with others.
"I am proud to have been raised in Florida's 18th Congressional District and have deep ties to our community," she said. "My family has owned and operated Baer's Furniture for more than 50 years, and I owe my success in life to my Palm Beach County public school education."
Baer expanded on her background in the community.
"Growing up here, and now raising my own family in this district, I understand the potential of our community to nurture young people, provide a good life for working families and care for our seniors — and I'll fight every day to make sure we provide that for the people of Florida 18," she said.
More than just a fighter, Baer is proud of her reputation as a consensus-building professional.
"I started my career as an attorney, fighting to get money out of politics. And as a national security expert, I also bring to this race deep experience in governing, having spent six years as an official in the state department," she said. "I know how to do the hard, bipartisan work of making our government work for the American people, because that's how I built my career. Through years of working to make our country safe and protect American values, I earned a reputation as a bridge-builder, a consensus-maker and a doer."
Baer feels that the current political landscape needs to change to accommodate compromise.
"Today, on both sides of the aisle, there are too many people who would rather sow division than compromise, who put party over country and who would rather listen to the sound of their own voice than to the needs of their constituents," she said. "With so much on the line for our community, I am firmly committed to reaching across the aisle, finding solutions and making government work for everyone in this district."
Baer concluded with a promise to voters.
"If you elect me, I promise to fight for quality, affordable healthcare and lower prescription drug prices; preserve Medicare and Social Security; safeguard our water and take action on climate change; advocate for public schools and college affordability; get big money out of politics and fight government corruption; build an economy that works for everyone and supports small business owners; protect a woman's right to choose; enact common-sense gun safety measures; and champion a smart foreign policy that keeps us safe and spreads American values," she said.
For more information, visit www.laurenbaerforcongress.com.