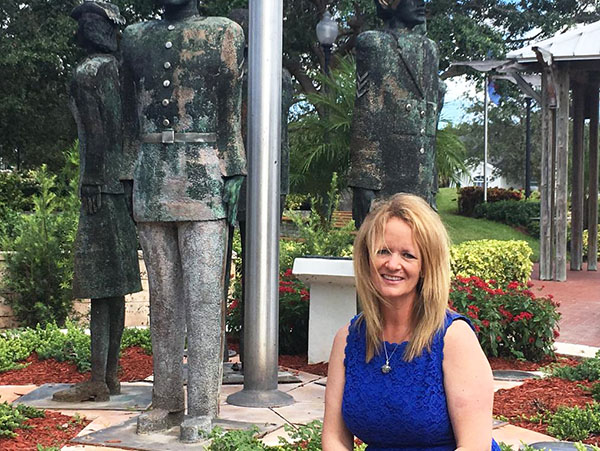 By Denis Eirikis
The Royal Palm Beach Village Council approved a new Art in Public Places program last week that village officials believe will lead to aesthetically pleasing improvements to the community.
"Let the record show that the council has unanimously passed a historic ordinance here tonight," said Mayor Fred Pinto after the program was approved by the council on Thursday, Oct. 4.
It is the community's first Art in Public Places program that specifically places requirements on large-scale commercial/industrial developments and on village capital projects.
Councilwoman Jan Rodusky said that she has fought for this program since 2016 and could not be more overjoyed.
"Our mission is to provide services and facilities to create an aesthetically pleasing, active and connected community," she said. "With this new public art policy, we will infuse art in a more intentional way, aligned with our vision and mission through a vetted process."
Rodusky is employed by the Cultural Council of Palm Beach County and has professional appreciation for the proven ways that arts and culture can benefit a community.
"We see it already around the village," she said. "Our public sculptures add vibrancy to our open spaces. Artists are selling their artworks at our green markets. Musicians and dancers are performing at our community gatherings. In partnership with the Caribbean-Americans for Community Involvement, we celebrate our differences while being inclusive and enjoying rich cultural traditions of dance, food, music and history. Our Parks & Recreation Department offers a variety of art classes for the young, and not so young, to participate and engage on a personal level."
Royal Palm Beach fine artist Michael Kuseske agreed. He exhibits at art shows all around the country and had an interesting observation. "Communities that promote and encourage art, that help create a mindset in residents and visitors that art is valuable — those communities seem to be the best places to work and live," Kuseske said.
Professional artist Barbara Powell has called Royal Palm Beach home for the last 18 years. She is delighted with the new ordinance. "Art is a reflection of the values of a community. More public art will give the village a proven economic advantage, by increasing the real estate values of art-enhanced developments and local businesses," said Powell, who has previously served on the Royal Palm Beach Planning & Zoning Commission.
Some of the goals of an Art in Public Places program include: increasing public access to art, promoting an understanding and awareness of the visual arts in the public environment, contributing to the civic pride and economic development of the village, enhancing artistic creativity in the village, and enriching the public environment for both residents and visitors through incorporation of the visual arts.
The ordinance applies to those private developments of 20,000 square foot in size or larger. The requirements apply to both initial construction and to renovation projects. All such developments will be required to purchase permanent artwork for the site equal to 1 percent of the total vertical construction costs of all buildings on the site.
According to Village Attorney Jennifer Ashton Gardner, the Planning & Zoning Commission will help select art pieces, and the village has agreed to provide members with any necessary training.
Pinto suggested that the next appointee to that board be someone with professional knowledge of public art.
Rodusky does not know when or where the village will see the first public art installation under this ordinance. "It will depend on future construction, and I don't know of any this large in the near future," she said.
But that is not stopping her from trying to further improve the village via art. She pointed out that renovations to the Royal Palm Beach Cultural Center will have beautiful artistic elements in the décor, lighting and furniture.
"I suggested to the council that the village could have a large rock at the Cultural Center for the community to paint," she said. "This would be an opportunity for groups to celebrate a win, memorialize a friend and/or show their club spirit. There are so many ways that art can inform, hearten and unite us."