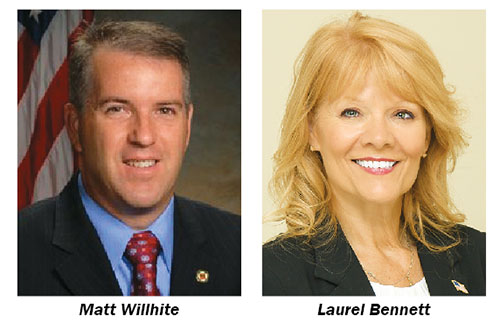 State Rep. Matt Willhite (D-District 86) is seeking re-election during the Tuesday, Nov. 6 general election against Royal Palm Beach businesswoman Laurel Bennett, the same opponent he defeated to win the seat in 2016.
Willhite, a Democrat who previously served two terms on the Wellington Village Council, took 57.6 percent of the vote in 2016 to defeat Bennett, the Republican nominee, who garnered 42.4 percent of the vote.
District 86 includes much of the western communities, including all of Wellington, Royal Palm Beach and Loxahatchee Groves, and several areas further east. The seat trends Democratic and was held by former State House Minority Leader Mark Pafford before Willhite won the seat two years ago.
The Town-Crier reached out to Willhite and Bennett, asking them to consider what they wanted voters to know about them and their stand on the issues in the final days before the election, and to address their remarks directly to the voters.
MATT WILLHITE
Willhite is finishing up his freshman term in Tallahassee.
"It has been my greatest honor to represent our community as your state representative," he said. "As a former corpsman in the U.S. Navy, a Wellington councilman and a 22-year veteran of Palm Beach County Fire-Rescue, I have been proud to dedicate my life to public service, and I thank you for that opportunity."
Willhite then shared his priorities for the next two years, including supporting and achieving quality in public schools.
"Our children are our greatest asset and our future leaders," he said. "As a product of public schools and a father of two in our public-school system, I believe investing in education is the single greatest investment for our future. I'm proud to have the support of Palm Beach County and Florida teachers, and I will never stop fighting for the world-class education that our students deserve."
Willhite said that he has also been fighting for senior citizens.
"All around Florida, but particularly here in Palm Beach County, issues facing senior and retired citizens have been in the spotlight," Willhite said. "That's why I've worked hard to be a champion for our seniors, advocating to expand alternative care programs, secure additional funds for Medicare and lower the cost of prescription drugs."
Focusing on public safety is another big issue for Willhite.
"As an elected official, I've dedicated my career to ensuring that our police, firefighters and nurses have all the resources they need to protect our community and keep themselves healthy," he said. "This past session, the state passed my bill that ensures that our first responders receive the treatment and benefits they deserve for illnesses developed in the line of duty."
Willhite added that he has protected the environment and water quality.
"Florida's environmental crisis cannot be avoided," he said. "Whether it's [the] toxic algae bloom or devastating red tides, our environment and water quality is severely at risk. I'm committed to working across the aisle to deliver sensible solutions that will protect our state in the long run. I hope that I can count on your support to continue my path of service, and I humbly ask for your vote."
Visit www.mattwillhite.com to learn more.
LAUREL BENNETT
Bennett called herself "the common-sense candidate."
"I'm the common-sense candidate, and I believe that Americans should come first," she said. "Do you care about school safety or your taxes going up? Do you care about another school tax? I do! Do you care about the crime rate, drug addiction and gang rape increasing? I do!"
Bennett said that she will place her focus on supporting veterans.
"If we can take care of the illegals and dreamers, then we can take care of our veterans," she said. "I believe that any nation that does not take care of its veterans has no business creating any more. Yet veterans have to fight for their disability rating just to get the coverage an illegal receives. Why does an illegal get scholarships, medical care, reduced college fees, yet taxpaying Americans do not? The veterans are our external protectors, and the policemen are our internal protection, and without them, there would be chaos. Let's keep our promises and take care of the veterans, police, first responders, firemen and emergency personnel. They earned it."
Bennett said that she is against all new taxes.
"I'm against any new tax. Here is why. We have more than 300 people a day moving into Palm Beach County. This increases our property revenue. Yet our taxes went up. The citizens voted in the 'penny tax,' in which the school board will receive more than $2.7 billion over the next 10 years. The lottery money for education is there, plus Palm Beach County received $88 million to hire the 75 security guards, so they have enough money to give the teachers a raise. I'd like to see some accountability and transparency before there is another school tax request. Say no to any new tax," she explained.
Bennett said that a renewed focus on fighting crime will solve other societal problems.
"I'm a director for the Opioid Awareness Foundation and hear plenty of stories about how gangs are running drugs through the schools. Wouldn't you like that stopped? I'm working on it because burglaries, car theft, domestic violence and murder are all crimes [related] to drug addiction," she said. "Let's solve these issues through prevention and reopening the mental health facilities we closed in the 1960s. Now is the time to vote for the person that will best represent you. Americans should be first."
Visit www.laurel-bennett.com to learn more.