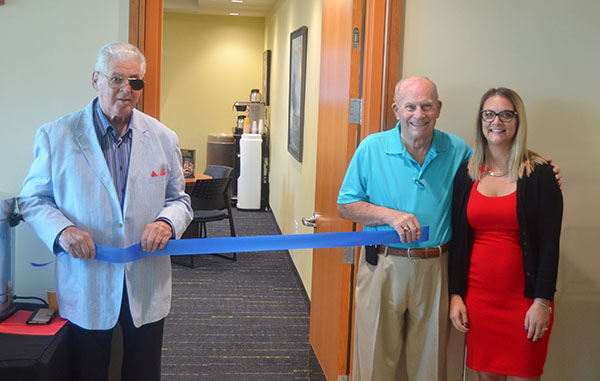 On Monday, Oct. 15, the Village of Wellington held a grand opening event for the new senior room at the Wellington Community Center. The room is located on the first floor of the building in the Polo Conference Room and offers spacious seating, games, coffee, tea and a spectacular view of Lake Wellington.
At the event were Village Manager Paul Schofield, staff from the Community Services and Parks & Recreation departments, members of the Wellington Seniors Club and former Wellington Mayor Tom Wenham. An array of donuts was provided courtesy of Wellington Regional Medical Center.
"I had to wait until I aged into it," Schofield quipped prior to the ceremonial ribbon cutting after being asked why it took so long for Wellington to get a dedicated senior venue.
Howard Trager, president of the Wellington Seniors Club, was on hand to cut the ribbon.
"It's a start," Trager said. "The room is charming, functional, welcoming, warm and hospitable. It was met with great anticipation. The more it's used, the greater it will grow."
"I hope it gets so much use that we have to expand it," Schofield added.
Wenham also participated in the ribbon cutting.
"This is a great place for seniors to come and meet on a day-to-day basis and make friendships," Wenham said. "It's a great place — great for the community. I hope it grows extensively."
Both Trager and Wenham are United States Air Force veterans, with Wenham serving during the Korean War and Trager serving in the Vietnam War.
"There are more than 8,000 seniors in Wellington," Trager said. "The seniors club is at 780 members and growing. It's time the seniors had a place of their own."
He thanked Community Services Director Paulette Edwards and Community Services Specialist Jenifer Brito for making it happen.
Following introductory statements by Schofield, Trager and Wenham joined together to cut the ribbon and officially open the new senior room.
Edwards was present to ensure the grand opening went smoothly.
"I am very happy with the turnout," she said. "We're looking at this as the beginning. [The senior room] is a great gathering place for seniors to socialize and meet up with each other. It's about bringing old friends back together."
Among those in attendance were friends Estelle Rubin and Mary Kastner.
"I'm delighted to finally have a specialized place for our senior residents," Rubin said. "As a senior, a lot of my friends have looked forward to having somewhere very special. We are looking forward to filling it to capacity. I thank everyone involved in creating this especially for the seniors."
Kastner is serving her second term on Wellington's Senior Advisory Committee after having been appointed by Councilwoman Tanya Siskind.
"I am thrilled that the village has been so responsive to the suggestions of the committee," Kastner said. "I think outside the room on the terrace would be the perfect location for tai chi for seniors."
Several seniors were already utilizing one of the chess sets supplied by the village.
"I hope it works out for everyone," said Peter Granata, who plans to use the room for social activities.
"It's a great idea — terrific," Peter Tauber added. "Wellington is always doing things for the seniors. We're a great part of the constituency."
Tauber echoed Trager's sentiments for a larger venue by referring to the current room as "a nice start."
Rhoda Zenlea was also pleased with the new senior room.
"It's a fantastic idea," Zenlea said. "Everyone seems to be enjoying it. I'm looking forward to being able to come in here to socialize. We had no place to go before this. Wellington could do more for its seniors."
The senior room is located on the first floor of the Wellington Community Center in the Polo Conference Room at 12150 W. Forest Hill Blvd. It is open Monday through Friday from 8 a.m. to 5 p.m. Coffee, tea and games are provided. For more information, call (561) 753-2484 or visit www.wellingtonfl.gov.