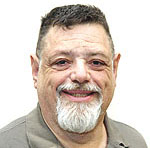 'I' ON CULTURE
Unless you're a big fan of the Harry Potter universe, Fantastic Beasts: The Crimes of Grindelwald is a movie to avoid. I was a big fan of the Harry Potter series, but I was able to care about the characters. In this series, written by J.K. Rowling herself, there are far too many characters, and it is hard to root for any of them. The plot is convoluted. It is supposed to be a prequel of sorts to the Harry Potter series, but ends up just being muddled.
The film takes place in 1927 when Grindelwald (Johnny Depp) escapes from custody and chases Credence Barebone (Ezra Miller), who is heading for Paris. Credence is an "obscurial," a kind of creature that has been born from hatred and repression that has the power to turn anger into a tremendously powerful beast. Grindelwald wants Credence's help in his fight against Albus Dumbledore.
Grindelwald is a racist who wants to segregate wizards and muggles (those without magic), with the wizards in charge and, of course, himself in command. A young Dumbledore (Jude Law), who once had a deep relationship with the villain, cannot move against him. So, Dumbledore sends timid Newt Scamander (Eddie Redmayne) to Paris to get Credence. Newt's girlfriend Porpentina "Tina" Goldstein (Katherine Waterston) also shows up chasing the young man.
While this sounds like a simple enough chase, Rowling introduces enough new characters, all of whom seem to need a lot of introductory scenes that tend to go nowhere instead of getting to the point. It reminded me in a way of some horror films that love to put all sorts of scary bits in until you get to the real point. I had trouble staying awake as all sorts of old family issues and feuds were discussed endlessly. I wanted some real action and got a lot of filler. I might add that I had trouble figuring out some of it, but learned by the end that much of it just did not matter. Side stories can work fairly well in novels, but it slows the middle of this film down really badly.
There is a lot of debate about who (or actually what) Credence is. He was adopted, and several ideas are proposed for his background. We do get to meet other family members. Newt's brother Theseus (Callum Turner) is a Department of Magical Enforcement official but, on the other hand, he is engaged to Leta Lestrange (Zoë Kravitz), Newt's ex girlfriend who has some rather nasty family members. We also get to Tina's sister Queenie (Alison Sudol), along for the adventure with her "nomaj" (American for muggle) boyfriend, who provide comic relief.
The cast is, surprisingly, not really all that good. Depp seemed to be doing his role by rote. His character is supposed to be really charismatic, but it did not come through until the end. Redmayne had to really chew some scenery to get noticed. We need a bit more James Bond and somewhat less Don Knotts in a hero. Waterston was wasted; she is supposed to be fascinating, but comes across as more than a bit strident. Sudol was wonderful again; her role is fascinating, seemingly a dumb blond, but underneath far more than that. Miller was by far the best actor; he was appropriately creepy while also seeming needy. Most of the rest just played their parts and looked like they were waiting to get into a project that really made sense.
As I noted above, there are many things that work in novels that just don't work on film. Books and movies are different. We can wander a bit through a book and enjoy the charm of interesting characters. But movies are far more linear. This film just muddled through a lot of irrelevancies.
If you loved the first film in the series, you might like this film. If you loved Harry Potter, be aware that this just is not on the same level as the books. Your best choice is to wait until it hits television.