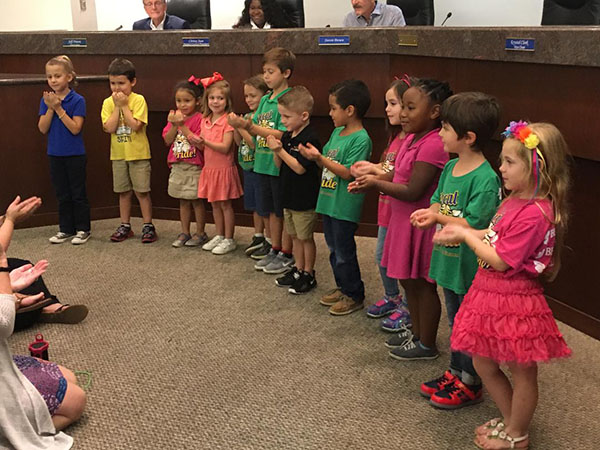 The Royal Palm Beach Education Advisory Board learned Tuesday, Nov. 13 that Royal Palm Beach Elementary School is "the happiest place on earth" — at least according to Principal Tracy Gaugler, Assistant Principal Cristina Fong, and about 60 cheering and singing students, family members and teachers.
Gaugler backed up her claim by providing the board with statistics.
"Of our staff who have children, and most of them do, about 75 percent have children who are students or were past students at Royal Palm Beach Elementary," she said. "I track this statistic because it's important to me to know my staff trusts our school, teachers, programs and facilities with their own children."
Besides boasting 16 years of straight A state grades for the school, Gaugler pointed to exceptionally strong parental involvement, ongoing schoolwide events and dedicated volunteers who logged an impressive 5,500 hours of volunteer time. The Florida Department of Education recently named Royal Palm Elementary School as a "School of Excellence."
Gaugler briefed the board on school strengths, such as its robust PTO, the 80 fathers who help with school safety and security as part of the Watch DOGS program, and outside partners like Jet's Pizza, which donates up to 50 pies a month. The school currently educates 696 students, with 58 percent of children on the free or reduced-price lunch program and 16 percent with disabilities.
The school spirit of Royal Palm Beach Elementary was on full display as 12 kindergarten students entertained the board with a song, while parents, family and friends looked on.
Stasia Robinson and her young son Eric came out to watch daughter Stasia perform for the advisory board.
"This is a really big deal for us," she said. "The school feels like a community, almost like a family, and watching my daughter perform to such a welcoming crowd, and on community television, makes me very proud."
Gaugler gave credit as well to Fong. They have worked together at the school as a team for the past five years.
"The best part of working at Royal Palm Beach Elementary is that I have the best boss in the world," Fong said. "Tracy is inspirational, she is a role model and she is a friend. The best part of her philosophy is the Golden Rule, where staff and teachers treat kids as if they are our own."
Also at the meeting, Chrisyndia Jean, who serves as a non-voting member and student liaison on the board, reported on events at Royal Palm Beach High School, where she is president of the student council. Their annual tree sale starts the day after Thanksgiving, and they hope to sell about 1,500 trees before closing on Dec. 24.
Jean also briefed the board on a mock election at H.L. Johnson Elementary School, where the high school student council worked with their elementary peers to stage a grade-by-grade mock election for Florida governor. She said the election was not only a lesson in civics, but it was also made into math lessons as students tabulated and color-graphed grade-by-grade mock election results, which were posted for all students to see.
Palm Beach County School Board Member Marcia Andrews thanked the community for approving new school board funding by voting in 72 percent in favor of the recent referendum.
"This was a very big deal," she said. "These funds will not only allow us to increase safety and mental health services for students, but will allow us to continue arts, music and a high level of academics."
The Royal Palm Beach Education Advisory Board meets the second Monday of every month at 6 p.m. in the Village Meeting Hall. For more information, visit www.royalpalmbeach.com.