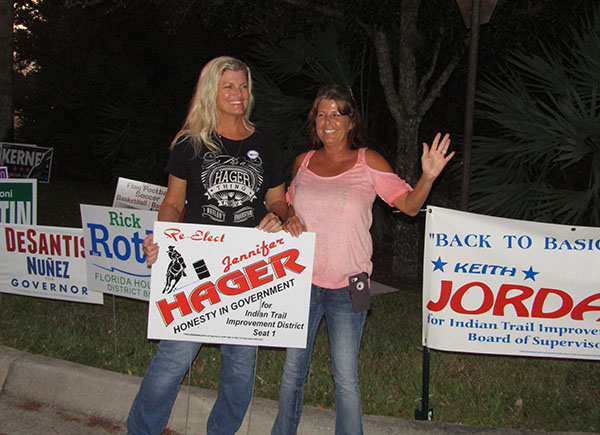 The Indian Trail Improvement District Board of Supervisors will have two new members following the results of Tuesday's election, while the one incumbent on the ballot will return for a new four-year term.
According to unofficial returns, in Seat 1, incumbent Jennifer Hager took 9,545 votes (63.32 percent) to defeat Robert K. Carter Jr., who took to 5,530 votes (36.68 percent). In the race for Seat 3, Joni Martin narrowly defeated Keith Jordano. Martin claimed 7,613 votes (51.08 percent) to Jordano's 7,292 votes (48.92 percent). In Seat 5, Michael T. Johnson took 9,117 votes (61.37 percent) to beat out John Richard Rivera, who took 5,740 votes (38.63 percent).
Hager, who will become the longest-serving supervisor, said that she had not originally wanted to run again due to her busy schedule, but decided to after several friends asked her to stay on.
"I guess they appreciate me throwing my hat in," she said. "I'm happy that I won, because after I put my name in, I accepted the fact that I faced a possible third term, and the commitment that it requires. I talked to my family, and they already understand what it takes to sit up there. It's not exactly easy."
Hager noted that she has been busy with her job as an elementary school teacher, and she also works out, practicing for triathlons that she competes in regularly, which she said helps keep her focused.
"I really enjoy it," she said. "It takes a lot of time, but I'm also satisfied with the results. It's demanding but rewarding at the same time. I feel like I'm able to focus better on the tasks at hand with the triathlons."
Hager said that she is thankful for ITID board members who seem to be paying attention to what residents want and balancing it with what they need. "I'm happy to be on the same team with what the board wants and what the district needs," Hager said, adding that she does not know the new members very well yet.
"I predict that we'll have a new level of professionalism," she said. "In the past, there has been a lot of animosity and personal issues. I think that when we're in there to do business, you shouldn't bring those personal issues to the meetings. I really think we're going to be able to do that now."
Hager said that she wants to be a rational voice of reason who can assess a situation for what it is and use good judgement to make good decisions for the community.
"That's why I put my name in, and there were a lot of people who asked me to continue with this," she said.
As a horse owner and rider, Hager added that she knows the equestrian community is frustrated.
"They think that I'm not on their side, but whoever is leading them to believe that is not telling the whole story," Hager said. "I support the equestrians wholeheartedly. We'll just keep on working toward what it is that they wish to accomplish."
Johnson is an agricultural plant manager at TKM Bengard Farms, a large produce grower in Belle Glade.
A two-year resident of The Acreage, he has never run for office before, but said he decided to run after he got involved with social media in The Acreage. Johnson created a web page on Facebook for the election, with updates and questions, and shared them on other local social media sites.
"People weren't happy, and I decided to try it out," Johnson said. "I have never been a politician. I have no business, and I'm not associated with anyone out here, so I have no bias toward anything. You really care about the community you live in. This is my home now."
Johnson said that he wants to represent the people the best he can and improve the infrastructure in the district.
"There are a lot of concerns by the residents out here," Johnson said, adding that he did not become involved with the negativity he saw on social media. "I just kept my head on my shoulders."
Martin said she ran for the ITID board because when she moved to The Acreage several years ago, she did not know who was responsible for different services, such as road maintenance.
"I started doing research on that, and I reached out to my friend, [Palm Beach County Mayor] Melissa McKinlay and some of the groups here, and she sort of put me in the right direction," Martin said. "I started going to [Acreage Landowners' Association] meetings and met [ITID Supervisor Tim Sayre] at one of the jams and at ITID board meetings this past year. I was somewhat surprised how inefficient it appeared to be."
Martin said that she started learning what issues were really important and what was needed in The Acreage.
"I met a friend who felt the same way, and we were told there were three seats coming up, and that they needed good people, and they needed some new blood," Martin said. "I'm so thankful to the voters, and to the residents who actually came out and voted and put their faith in me. They want change and trusted me with the position."
Martin added that she wants to be a positive addition to the board.
"I want to be a person who can work with everybody efficiently," Martin said. "I'm not going to be somebody who's grandstanding and trying to make things take more time. I'm really interested in addressing the issues that are affecting our community. I want to work with the board and really focus on the pressing issues, including the safety of our roads, since there are constant accidents, and people are getting into accidents and getting killed on our roads."