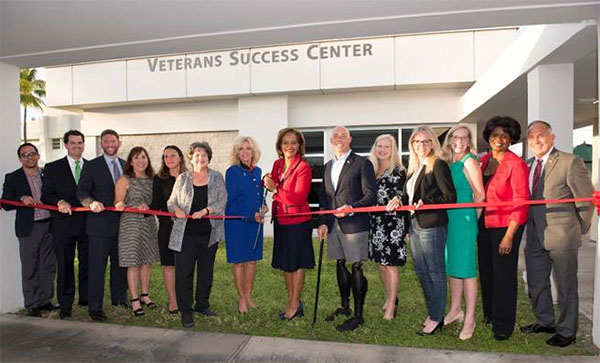 Palm Beach State College held a grand opening ceremony Thursday, Nov. 1 for the new Veterans Success Center on the Lake Worth campus. About 175 people attended the event, including student veterans, elected officials and business and community leaders. U.S. Rep. Lois Frankel (D-District 21) and U.S. Rep. Brian Mast (R-District 18) were the guest speakers.
The 2,300-square-foot facility is designed to support veterans and their families who are pursuing their education at PBSC. It features a lounge for social and recreational activities, study areas, a computer lab, tutoring, mentoring, academic and career advising, and other services. It replaces a one-stop center that the college established in an office on the campus in 2009. However, to create more space and offer comprehensive services for veterans and their families, PBSC renovated a building to establish the new freestanding Veterans Success Center.
The center was made possible because of an $800,000 one-time appropriation approved by the Florida Legislature in 2016 and backed by former State Sen. Maria Sachs, who served as chair of the event.
PBSC President Ava Parker recognized Sachs for her support, along with the 2016 members of the Palm Beach County Legislative Delegation. Sachs, a champion of veterans and whose late father served in World War II and Vietnam, thanked Parker, whose father also served in the military, for her leadership in seeing the facility come to fruition. She said that there are 15,000 veterans living within proximity of the Veterans Success Center.
"Without her guidance, her motivation and her stubbornness, this never would have happened," Sachs said of Parker. "It has been said that the greatest casualty of war is to be forgotten. So, we are here today to dedicate ourselves, on behalf of the leadership of this state college, that no veteran will ever be forgotten here in Palm Beach County."
Frankel, whose son is a Marine Corps veteran who served in Afghanistan and Iraq, said she has a bill pending in Congress to reauthorize a grant program for colleges and universities to establish similar centers.
"The physical and the emotional transition coming from the military can be very rough. So many of our men and women slip through the cracks when they come home. That's why what we're doing here today is just such a blessing for our community," she said.
Mast served in the U.S. Army for more than 12 years, earning the Bronze Star Medal, the Army Commendation Medal for Valor, the Purple Heart Medal and the Defense Meritorious Service Medal. He said that "the campus is blessed to have veterans walking these pathways."
"I think that everybody who's a part of this school knows that, and that's why they worked so hard to make sure they have a Veterans Success Center," Mast said, noting the sacrifices veterans make serving the country.
PBSC serves more than 1,100 veterans and their families. The college also has facilities for veterans on its Palm Beach Gardens and Boca Raton campuses. Visit www.palmbeachstate.edu/veteransservices for more information.