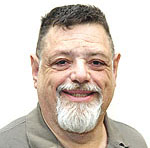 'I' ON CULTURE
One of the famous Queen songs is "We Will Rock You," and another is "We Are The Champions," but Bohemian Rhapsody, the new film about Queen, will only rock you and feel like champion moviemaking if you are a devoted fan of the band. It basically is a fairly typical biopic of a rock band with the specific twist that the lead performer was bisexual. Wow! On the other hand, Rami Malek playing Freddy Mercury gives a superb performance that carries the film a long way.
The film begins with Farrokh Bulsara (Malek) working as a baggage loader at Heathrow Airport in London and being cursed as a "Paki," while he protests he isn't from Pakistan at all. Actually, that is a key element, as he often seems not to know exactly who he is. Instead of being part of a regular Zoroastrian family, he is fighting a culture war with his parents (Meneka Das and Ace Bhatti) by going out clubbing and eventually changing his name to Freddy Mercury. One night he catches up with a local pub band that is in the process of breaking up and convinces guitarist Brian May (Gwilym Lee) and drummer Roger Taylor (Ben Hardy) to let him join their group. Soon after, they are joined by bassist John Deacon (Joe Mazzello) and begin to turn into the popular group Queen as they play clubs and then risk all their money on making a recording.
We go through years watching the band members fight but also create amazing music, and are also treated to the crazy life of Mercury, particularly in his strange love affair with Mary Austin (Lucy Boynton), a woman who recognizes Mercury's attraction to men even before he does.
Mercury is soon the clear star and the group's leader, although the film stresses contributions by May and Taylor, who are two of the executive producers. There is a major weakness: we get the opening riff of a couple of numbers at rehearsals, and suddenly the band is performing them before concert audiences. The creation of the title song is covered in a short burst, one shorter than the argument with a strange record exec (Mike Myers) about using it. We never hear the full version.
The second half of the movie is dominated by watching Mercury's downfall at the hands of men who only use him. Much of it was due to his manager, Paul Prenter (Alan Leech), who isolated him from the rest of the band and the others in his support group. We see him turning on his fellow band members, who were like a family to him. There were rumors during his life of wild parties that here are barely touched upon. It is sympathetic, but it barely shows much about the man. What actually happened probably deserved a hard "R" rating or even an "X," but we see very much the "PG-13" version, which makes certain we know less about the man than we should. Some people see him as a flawed rock god, but here he comes across mostly as a sad kid, unsure of his identity when not on stage.
And, finally, we see him making amends and a close to precise re-enactment of the band's famous performance at the 1985 Live Aid concert at Wembley Stadium. The film ends on a high note, as the audience there went crazy over Mercury and the band.
It is Malek's performance that drives the film. We see him at first as the rather shy baggage handler turned into the lead singer, into the lover, and then into the superstar and the man who would self-destruct. It is one of the best performances of the year. The rest of the actors playing the band members actually look very much like the real ones and have distinct personalities, despite the relatively short time we see them talking and not performing. Boynton does as much as possible in a role that eventually almost disappears from the film.
For those who are Queen fans, the music will rule. Personally, I didn't know much about Queen, but I still enjoyed the music. If you're a fan, you will really want to see the film. If not, well, it is pretty good.