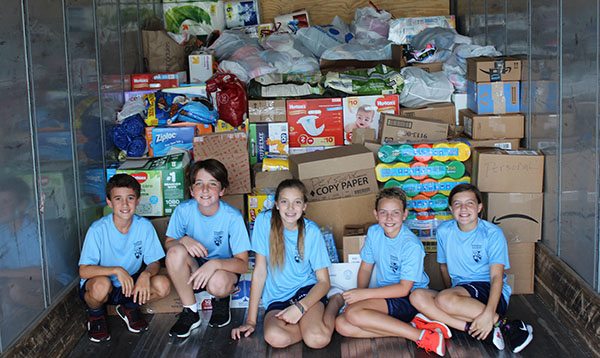 In partnership with ABF Freight, the Rosarian Academy led a community-wide effort to collect needed supplies for those in North Florida who have been affected by the devastation of Hurricane Michael. The drive ran for 10 days in October. All local schools, organizations, churches and Palm Beach County community members were invited to join the effort.
Gary Gelo, superintendent of the Diocese of Palm Beach, reached out to all of the Catholic schools in the county sharing a call for help from the superintendent of the Diocese of Pensacola-Tallahassee. Rosarian Academy quickly responded to this plea and secured the truck and transportation through ABF Freight.
A 28-foot trailer, donated by ABF Freight, was filled with an estimated 4,480 pounds of water, tarps, cleaning supplies, gloves, pet supplies, baby food, diapers, non-perishable food items, sunscreen, hand sanitizer, bug spray and toiletries. ABF picked up the trailer on Oct. 30 and is transporting the supplies from the West Palm Beach campus to St. Dominic Catholic Church in Panama City. Catholic Charities is staging food and water distribution at St. Dominic. The supplies are going directly to the Panama City community and other area churches.
"Thank you for the outpouring of support for the Hurricane Michael drive," said Linda Trethewey, head of school at Rosarian Academy. "The generosity of our community is heartwarming. This was a wonderful service opportunity for our students to be a part of and witness first-hand. We all know that this devastation could so easily be us. And without ABF, we wouldn't have been able to transport the donations."