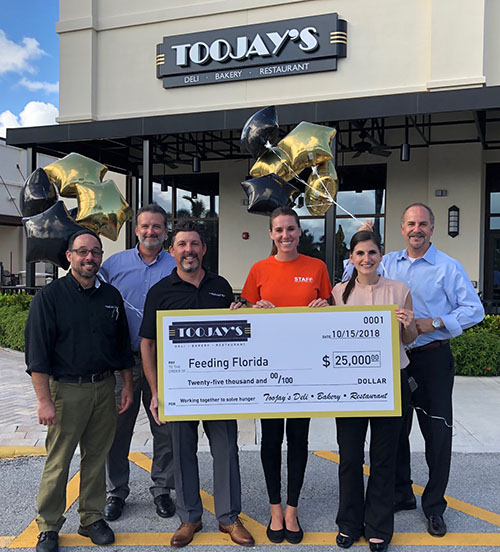 TooJay's held its second annual "Too+You" campaign and raised $25,000 for Feeding Florida, a statewide network of Feeding America food banks providing a healthy, adequate and consistent food supply to those in need.
Throughout the month of September, $1 of every cake slice sold was donated to Feeding Florida. Guests also made donations by rounding up their checks throughout the month. Through the buying power of Feeding Florida, $1 provides 11 meals to those in need across the state. TooJay's donation will fund more than 275,000 meals for food insecure families.
"We are pleased to partner with and support Feeding Florida as a part of our commitment to give back to the local communities where we do business," said Max Piet, president and CEO of TooJay's. "Thanks to the efforts of our team members and guests, we surpassed our fundraising goal for this amazing cause."
Feeding Florida is grateful to TooJay's for the support.
"This donation will allow us to continue to provide a healthy, adequate and consistent food supply to the 3.3 million Floridians facing hunger every day," said Robin Safley, executive director of Feeding Florida.
For more information, visit www.toojays.com.