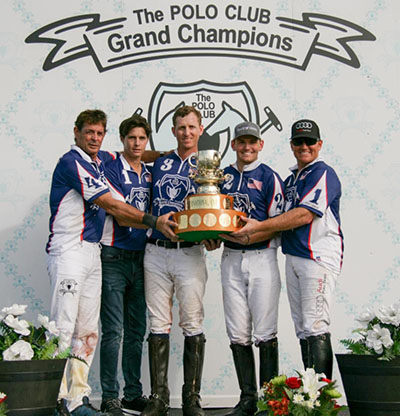 In an exciting finish, Team USA remained undefeated with a hard-fought 9-7.5 victory over Azerbaijan in the International Cup on Saturday, Nov. 24 at the Grand Champions Polo Club in Wellington.
In front of a packed house, the team of Marc Ganzi, Grant Ganzi, Jeff Blake and Juan Bollini led for most of the game to turn back the upset-minded Azerbaijan team of Rashad Hasanov, Elcin Jamalli, Andres "Lala" Laplacette, Adrian Laplacette and reserve Amil Namazov. It was the seventh consecutive victory in the international match for Team USA. Since 2012, the U.S. has defeated England, Chile, Mexico, South Africa, Uruguay and Brazil.
Blake, a three-time U.S. Open champion and Team USA captain, was named Most Valuable Player in his International Cup debut. Blake, at six goals, was the highest-rated member of the team.
"It was some added pressure being my first time in the international match knowing they had won six straight," Blake said. "Marc scored some big goals at important moments. Grant played very smart and disciplined. Juan was phenomenal at back the whole game, especially at the end when we left him alone with three Azeris and he won the play."
Marc Ganzi scored a game-high four goals. Blake added three goals, and Grant Ganzi had two goals. Argentine cousins Adrian and Andres Laplacette and nephews of Juan Bollini shared scoring honors for Azerbaijan each with two goals.
Bollini, at 56 the oldest player in the lineup, replaced his injured son Juancito Bollini for the U.S. The former 8-goaler from Argentina was granted U.S. citizenship a week ago. "For me to be an American and play for America is a real dream come true," Bollini said. "I wanted to do well for my son. I wanted to win and have him on the podium with me."
Ganzi, a junior at Lynn University and a Team USPA member, won his third consecutive International Cup. At 20, Ganzi is the youngest member of Team USA.
"The win takes on added meaning when you play for the U.S.," Ganzi said. "It's always a huge deal for me when I step on the stage and play for the U.S. This is as big as it gets, and I'm just so happy to win again."
Team USA dominated most of the hard-fought, physical game.
Azerbaijan made it interesting late in the game. Trailing 8-4.5 with 1:27 left in the fourth chukker, the aggressive Azeris scored three unanswered goals before Elcin Jamalli missed a scoring opportunity and Marc Ganzi scooped it up to score an insurance goal.
"It was a great last chukker. We were close," Andres "Lala" Laplacette said. "It was a very exciting finish. We came to win. We are a strong team and had a really good time. We represented our country well. The American team was very well-organized. And of course, they know the field, they know the horses, they know everything how it works here. We are visitors."
Two Wellington-based Santa Rita Polo Farm-owned horses were honored. The American Polo Horse Association Best Playing Pony was Nadia, a 5-year-old chestnut mare played by Marc Ganzi, and the Grand Champions Best Playing Pony was Fendi, an 11-year-old dark bay mare played by Adrian Laplacette.
The International Cup is a holiday tradition that ends the biggest week of the fall polo season at Grand Champions.
Award-winning Ken-Rose Catering and Event Planning catered a VIP tent that also featured a custom-made cake by Jennifer Johnson of Johnson's Custom Cakes of Wellington. Another sponsor was Perfect Vodka. Owner Dennis Cunningham was one of the award presenters. Popular local singer Tom Blake, older brother of MVP Jeff Blake, gave a stirring rendition of the national anthem. Azeri dancers entertained the crowd at halftime. Proceeds benefit the Museum of Polo and Hall of Fame.