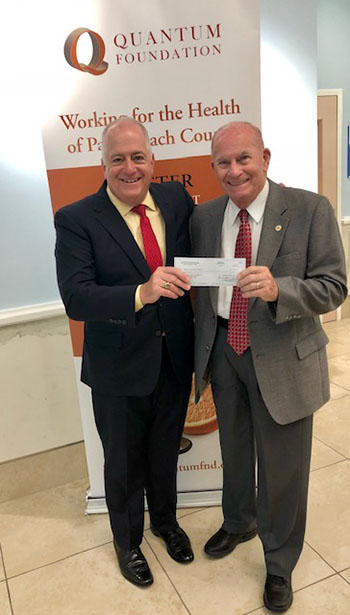 The Wellington Community Foundation recently received a $10,000 grant from the Quantum Foundation to help continue the local nonprofit's mission to help seniors, veterans and children in Wellington.
The grant was awarded at a breakfast held earlier this month at the Riviera Beach Marina. Quantum awarded grants totaling $750,000 to 94 organizations. Wellington Community Foundation Chair Tom Wenham and Secretary Mickey Smith were on hand to receive the grant money.
"The breakfast was very moving, and it was inspirational for us to see all the good work the Quantum Foundation does," Wenham wrote in a letter thanking the foundation for the grant. "Rest assured, we will be good stewards of the funds we were given. Furthermore, we are anxious to participate in the educational programs that the Quantum Foundation provides."
The grant was part of the eighth annual Quantum in the Community initiative that provides funds for operating support in amounts up to $25,000 to qualifying nonprofits that help meet the basic needs of the county's most vulnerable residents. The grantee organizations represent all corners of the county.
In 2011, Quantum made a commitment to this annual program when surveys showed that local nonprofits were struggling to keep their doors open. Since then, the foundation has awarded a total of $5.5 million through this initiative.
Applications open in the spring and funds are awarded in November. Visit www.quantumfnd.org/quantum-in-the-community for more info.
Learn more about the work of the Wellington Community Foundation at www.wellingtoncommunityfoundation.org.