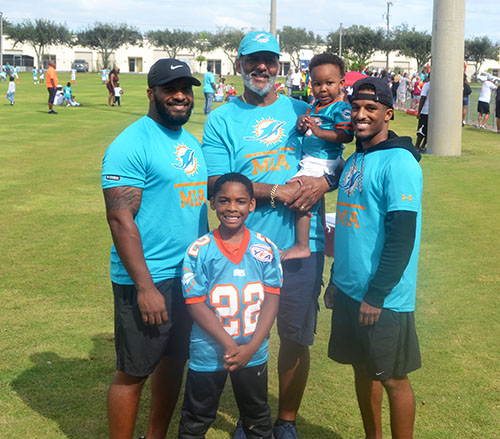 The Pendergrass family of Royal Palm Beach has been involved with the Western Communities Football League for 21 seasons. On Saturday, Nov. 3, three generations of Pendergrass were involved as the Ultimate Dolphins played in the WCFL Super Bowl.
Lonnie Pendergrass is a Palm Beach County native who moved to Royal Palm Beach in 1982. As the father of two now-grown sons interested in football — Brandon and Trey — he began coaching in the WCFL in 1997 and now assists his eldest son with coaching.
Brandon Pendergrass Sr. is a graduate of Royal Palm Beach High School. He was a running back at Wake Forest University and signed a free agent contract with the Baltimore Ravens. The recipient of the 2006 Lou Groza Award for being the best high school football player in Palm Beach County, he is in his first season coaching in the WCFL.
Trey is a graduate of the Jupiter Christian School. He was the winner of the Palm Beach Post and Florida Dairy Queen 1B player of the year awards. He played wide receiver at Eastern Illinois University where he was a teammate and roommate of current San Francisco 49ers quarterback Jimmy Garoppolo. He is currently helping his brother coach in the WCFL.
Representing the next generation, Brandon Pendergrass Jr. is currently a running back for the WCFL's Ultimate Dolphins, which is open to players ages five to seven. He plays running back and wears number 22 — just like his father.
"I started with my kids to get them into sports," Lonnie recalled. "Sports was always something I was involved with. Coaching them was more involvement."
After his children aged out of the WCFL and went on to high school, college and even professional football careers, the elder Pendergrass remained involved with the local league. As a coach, he explained the joy he received from mentoring young players and introducing them to the game of football. "Seeing them grow — seeing them come back and play again means you did a good job," Lonnie said.
Although it is a game with scoring, the Pendergrass family stresses that the WCFL is about learning — not winning.
"Winning is not the most important part," Lonnie said. "Teamwork, leadership and camaraderie are what's important."
Lonnie spoke of some of the unique experiences and challenges of coaching children who are playing football for the first time.
"At this age group, it's essential they learn the fundamentals," Lonnie said. "[Coaches] need patience to teach them to do things their bodies have never done before. If they get it right here first, it'll be a good foundation going forward."
Some of the WCFL's players have gone to successful football careers in high school, college and even the National Football League.
"Some of them you can see if they stick with it, they'll go to the next level — you can see it in them," Lonnie said. "High school, college, pros… they all come back to watch them play."
Lonnie noted the unique experience of helping his son coach his grandson.
"This has been a joy right here to get out there and help them," Lonnie said. "I don't think anyone gets that experience. It has been an honor — I couldn't ask for more."
Brandon Sr. is in his first-year coaching in the WCFL.
"It has been fun," he said. "Just getting back into it. Teaching kids how I learned growing up playing football. Coming back into a league I played in was a great reward for me."
Brandon Sr. said that it has been quite an experience coaching children as young as age five. "Kids this age have a lot of energy," he said.
He also had much to say about the experience of having his father on the sidelines on game day.
"He's still in head coach mode," Brandon Sr. quipped. "It's an interesting dynamic. We love watching football together. He sees things I don't see. We bounce ideas off one another without clashing. He's my dad — I can't yell at him. It's great for me to see him coaching his grandson."
Ultimately, Brandon Sr. decided to coach in the WCFL when he was recruited by a member of his family, but it was not his father.
"My son wanted to play — he wanted me to coach him," Brandon Sr. explained. "I don't want to push anything on him, but when I ask him what he wants to be when he grows up, he tells me a football player."
Trey also came back to the WCFL this season as his older brother's assistant coach alongside his father.
"It was fun to be on the other side of things," Trey said. "I played football for 18 years. Coaching was exciting."
Trey was not shy about discussing what it was like coaching alongside his father and older brother.
"It was interesting," Trey said with a smile. "We butt heads. We're a lot alike. We bond and enjoy a game that we love."
Trey — who does not yet have children — threw himself into the role of a coach.
"The players get all of my love, attention and support," he said.
Trey said he learned a lot from his players on the Ultimate Dolphins.
"Kids will be kids," Trey said. "I need to have patience. Kids teach you a lot. They have a short memory. They're having fun and moving on to the next play."
Trey believes that such youth football leagues like the WCFL provide a valuable entry to the game of football.
"The kids learn the fundamentals of football," he said. "It's not all about winning. It's about getting better and better each day and growing up to be a great football player."
As the 2018 WCFL tackle football season wraps up, the Pendergrass family has been involved for those 21 consecutive seasons, and it seems that will continue into the foreseeable future.