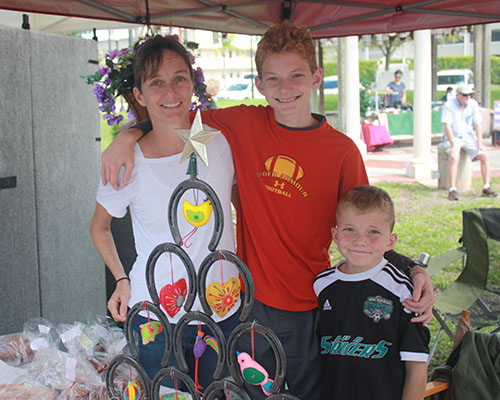 While many area residents were out enjoying the cooler weather or preparing for the holidays, 13-year-old Caiden Erskine spent last Saturday morning at Royal Palm Beach's Fall Fantasy Craft Show where he helped create jobs for poor women in South Africa while simultaneously helping scientists preserve the majestic African rhinoceros. Not a bad morning's work from Veterans Park.
Erskine, of Tree Tops in Wellington, marches to a different drummer. Maybe it's the daily meditation that he practices. Maybe it's because he has seen South African poverty first hand, with trips home to the birthplace of his parents. Maybe it's because he is so empathetic to the plight of poor women, and animals hunted to near extinction.
But one thing is clear, Erskine is making a difference with his micro business selling handicrafts manufactured by Zulu women under the nonprofit Zimele and using all his profits to donate to the Global Exploration & Oceanographic Society (GEOS), a nonprofit that helps conserve and protect African rhinos.
"I get to help two nonprofits at the same time," he said while selling Zimele crafts at the fair held at Veterans Park in the heart of Royal Palm Beach.
Erskine said he initially started the business two years ago to earn volunteer hours for school, and he thought of all the poor people he had seen during family visits to South Africa. It has now grown to the point where he has bought thousands of dollars' worth of Zimele crafts, helping in a very real way to provide a market from which the artisans can earn a living.
Zimele is a South African nonprofit organization with a mission to confront the root causes of poverty and remove barriers to economic self-sufficiency by providing poor women with jobs creating crafts that are sold overseas. The organization doesn't just feed people for a day, but instead teaches people how to be self-sustainable in new careers such as artisans.
From her base in Pietermaritzburg, South Africa, Zimele's Kim McCall said that she has been very impressed by Erskine's work ethic.
"Caiden, since age 11, has become an ambassador for those less fortunate than himself. He has undertaken efforts to support impoverished Zulu women in South Africa to stand on their own two feet in life," she said. "Caiden has supported their businesses by purchasing the community craft products the women make and sell to earn an income. In doing this, he has not given a handout to a charity, but instead supported their business projects that allows them the opportunity to earn their own income rather than remain helpless and poor. We believe in changing one individual, one family, one community at a time, and thanks to people like Caiden, we can do just that!"
All revenues in excess of the cost of the Zimele crafts goes toward GEOS. Bridget Erskine said that her son has already earned more than $1,000 for GEOS earmarked to its mission of conserving at-risk species, such as rhinos, in their natural environments.
Erskine is currently an eighth grader at the Ideal Leadership School in Royal Palm Beach.
"Caiden has attended Ideal since he was 3," Principal Wendy Soderman said. "He is the personification of what we teach here about emotional intelligence, heart and passion."
All students practice meditation daily which, Soderman said, "might be why Caiden is living proof that meditation works."
Bridget Erskine said that her son is all about passion and kindness. "He has been taught from the start to have respect, compassion and manners," she said.
Erskine is also an excellent athlete who teaches soccer to disabled children at Okeeheelee Park.
"I enjoy doing this because I am able to give back to children who cannot play soccer like I can," he said.
At the top of his gratitude list this Thanksgiving is his family. "I'm also grateful to be able to help someone in need, however small it may be," Erskine said.
For more information about Zimele, visit www.zimelecommunity.co.za. Learn more about GEOS at www.geos.foundation.