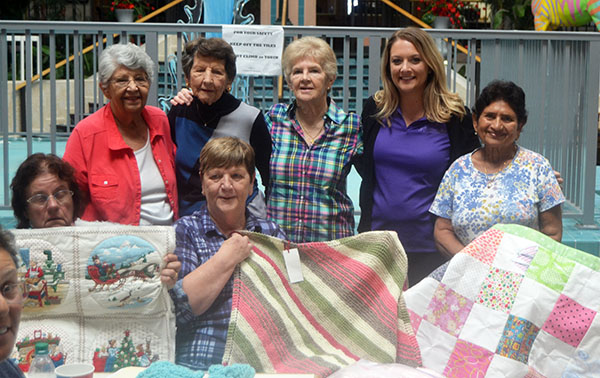 Jenifer Brito has only been with Wellington's Community Services Department for nine months, but she is already making a huge impact on seniors in the community.
Brito attended Ohio Valley University in West Virginia where she studied psychology, but a devastating diagnosis to her beloved grandmother inspired a different career path.
"My grandmother was diagnosed with Alzheimer's when I graduated," recalled Brito, who began spending time at the nursing home where her grandmother was being treated and noticed a disturbing trend. "So many seniors in the nursing home had no families."
As a result, Brito began spending more time at the nursing home — not just with her grandmother, but with other residents as well. "I loved being around seniors to help them," she said.
Brito grew up in Marietta, Ohio, in the southeastern part of the state near West Virginia. It was this rural upbringing that inspired her family's move to Wellington.
"I wanted to choose a place that had some 'country,'" Brito said. "I had horses as a kid."
Brito went to work for the Alzheimer's Association and relocated to Wellington with her family in 2016. Her husband, Erick, works in accounting for Blue Team Restoration. Their son Noah, 6, is a student at Elbridge Gale Elementary School, while daughter Brooke, 3, is at the Academy of Little Learners. When a job with the Village of Wellington working with senior citizens became available, Brito was quick to apply.
"I wanted to work in my own community," Brito said. "What better way than helping the seniors?"
Brito enjoys many aspects of her job, including interacting with Wellington's growing senior community.
Brito was the driving force behind the village's first Senior Health Fair on Oct. 18, the new Senior Room at the Wellington Community Center and she has worked closely with Wellington's Senior Advisory Committee.
The success of senior services in Wellington is important given the large senior population, and the fact that Money Magazine recently named Wellington one of the eight best places in the United States to retire.
She is currently hard at work on the Senior Holiday Party, which will be held on Tuesday, Dec. 11 from 11:30 a.m. to 1:30 p.m. at the Wellington Community Center.
"Come and have fun," Brito said of the event. "There will be good fun, laughter and music."
Brito's hard work and dedication have already drawn the attention of members of the village government — past and present.
Former Wellington Mayor Tom Wenham has interacted with Brito on a number of occasions, most recently at the Senior Health Fair.
"Jenifer is a great asset to the team," Wenham said. "She is top notch, and we are lucky to have her."
Mayor Anne Gerwig used her comments at the Oct. 23 meeting of the Wellington Village Council to praise Brito, and also spoke to the Town-Crier about her.
"Jenifer is an important part of our neighborhood services department," Gerwig said. "She brings talent and care into her work. Her instincts that led her to insist on a home check for one of our vulnerable residents has been described accurately as lifesaving. We are proud of our reputation as a caring hometown, and she exemplified that in this instance."
Much of the recent praise heaped on Brito involves her going above and beyond the call of duty for one particular senior in need.
"Ms. Schwartz came to our attention when a resident called with concerns about her," Brito explained. "They said she was not taking good care of herself and had no local family. They were concerned with her overall well-being. We started to check on her."
Brito visited with Schwartz at her Wellington residence three times. During one visit, she discovered a leg wound and called Palm Beach County Fire-Rescue to provide assistance.
"PBCFR treated her on scene, but she refused to go to the hospital," Brito said.
Schwartz sold her vehicle and flew to New York City to seek medical treatment, but upon disembarking her flight in New York, staff determined that she needed immediate medical attention. Brito was listed as Schwartz' emergency contact information, and the authorities in New York contacted her for guidance.
"She got off the plane and was not looking good, so they took her to a local hospital," Brito said. "The social worker called me saying she was refusing care."
After being discharged, Schwartz returned to her home in Wellington, but when Brito attempted to reach her the following Monday, she was unable to. Brito immediately contacted Palm Beach County Sheriff's Office Deputy Vasile Ciuperger and headed to Schwartz' home.
"I insisted that we check on her," Brito said, "When we got there, we could tell something was wrong. We could hear her, and the door was unlocked. When we went in, we found her on the ground."
Schwartz had been on the ground for 36 hours, and Ciuperger immediately called PBCFR to transport her to Wellington Regional Medical Center, where she is currently receiving treatment. Both Brito and Ciuperger have made multiple visits to Schwartz in the hospital.
For Brito, this is a teaching moment and a lesson for all to learn.
"We all really need to check on each other," she said. "If we wouldn't have checked, there would be a different outcome."
One positive to come out of the situation is that Schwartz' children have become involved, and she is expected to be placed in an assisted living facility.
"Don't wait for a crisis to happen," Brito implored.
Of all the recent comments and praise heaped upon Brito, it was Village Manager Paul Schofield whose comments provide the best summation: "Jenifer is absolutely amazing."