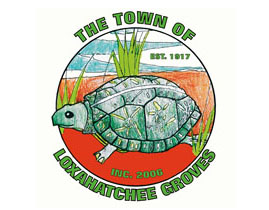 Loxahatchee Groves Councilwoman Anita Kane recently told the Town-Crier that she will run in March to complete the remaining two years of Seat 3, the seat she was appointed to earlier this month.
Kane was appointed to fill the vacancy created by the surprise resignation of former Councilwoman Joyce Batcheler in November.
Kane, the former chair of the Loxahatchee Groves Water Control District, was appointed by the Loxahatchee Groves Town Council to fill the seat only until the March election, when the seat will be on the municipal election ballot.
Formerly from Potomac, Md., Kane attended law school at George Mason University in Virginia. She is a co-owner at #1 Education Place, a private school and tutoring facility in Wellington.
Kane noted that when she was appointed, several council members and members of the public said they felt it was important that the person be willing to run for the seat so that there is continuity on a council that has gone through a number of changes in recent years. "The people whose names came up were certainly qualified people," she said.
Kane was elected to the LGWCD board in June 2016, where she was eventually elected chair and led the effort for the district to become dependent to the town. "That group appointed me as the treasurer, and as treasurer my focus was more on looking at some of the financial things that were going on at the water control district behind the scenes," she explained.
This led her to explore if LGWCD policies were effective and efficient. "Everything I got done was not just me," she said. "It was a really dedicated board of people that I sat with."
In the second year of her term, two new supervisors were elected, and she was tapped the lead the board.
"There are really two things that I think are key that I accomplished as chair," Kane said. "The first one was purchasing the land that is the canals and the banks of the canals. Prior to that, we only had easements, and there was just a tremendous amount of problems that were cropping up because of the easements — not the least was that we couldn't really have recreational trails on somebody else's land."
She worked with former LGWCD Administrator Steve Yohe to secure ownership rights from original Loxahatchee Groves landowners Southern States Land & Timber. "I have to give him full credit because he is the one who had the relationship with Harry Smith of Southern States," Kane said of Yohe.
Kane said the process was long, but the transition of ownership came about at a minimal amount of cost to the district. "The town now owns the land, and we're opening up the gates and making progress with the trails," she said.
The second accomplishment was getting the district dependent to the town through a referendum.
While she had her own opinions, Kane said her primary goal was to find out what the residents wanted.
"One of the things that I believe was causing a lot of divisiveness was that a group of people was saying we should go back to being unincorporated, a group of people was saying that the district should be dependent on the town and a group of people was saying it should not be dependent," she said. "My intention was that we should put it to a vote, and we can close that chapter one way or the other, whichever way the vote turned out."
When she first brought it up, Kane was told that the process is too expensive and would require lobbyists and legislative sponsorship. "I went to [State Rep.] Matt Willhite directly and asked if he would sponsor it. I said, 'Well, I'm going to do this, because it needs to get done,'" Kane said. "This wasn't an overnight thing. It was a many-months process."
After Willhite agreed to sponsor a local bill for district dependency, Kane went to the town and asked for a letter of support. She also got State Sen. Bobby Powell on board as a potential senate sponsor, if needed.
Kane then got support from Mayor Dave Browning, Vice Mayor Todd McLendon and former Councilman Ron Jarriel, who went to Tallahassee with Kane to lobby for the bill, as well as other items the town wanted. It then went to a vote, and it passed by a large margin.
For the future, Kane said that the council needs to resolve the town management question, which has brought divisiveness in the community.
"We need to effect some kind of change there because what we have just isn't working," she said. "I don't care to place blame on anybody. I'm not taking sides in this battle. It just isn't working for anybody, and I have publicly stated that I don't want to be in the middle of what's going on. It's horrible. It really is. In my opinion, so much energy is being wasted on the vitriol. That's energy that could be used for more positive change."
Kane added that the town has grown so quickly that it has brought about problems with contractual management coupled with the LGWCD having hired staff that need to be accommodated.
"What was a management style that was effective and prudent when the town was founded, may not be any longer," Kane said. "We can't afford to just go out and hire 20 people. I'm hoping we can do half employee, half contract."
She suggested that upper-level positions such as finance and the town manager be hired, while keeping positions such as code enforcement contractual, as in the past.
"I think if we get that under control, other issues will fall into place," Kane said. "We need a five-year plan, we need a 10-year plan, we need a three-year plan about roads, about trails to try and address everybody's issues."
Kane noted that the town's infrastructure needs have not kept up with demand.
"We started out with trails, and then they became lanes and then, lo and behold, they became roads," she said. "There was never any infrastructure, there was never any drainage, there was never proper road rock material put down. It just grew too fast. Now we've got people coming in and spending a lot of money on really nice places, and the traffic has increased, and the population has increased. We're having some growing pains, and we need to address them."
The special election for Seat 3 will be held in conjunction with the regular elections for Seat 2 and Seat 4, currently occupied by McLendon and Browning, respectively. McLendon plans to seek re-election, while Browning does not.
The qualifying period opens at noon on Wednesday, Jan. 2 and closes at noon on Wednesday, Jan. 9. The election will be held on Tuesday, March 12.