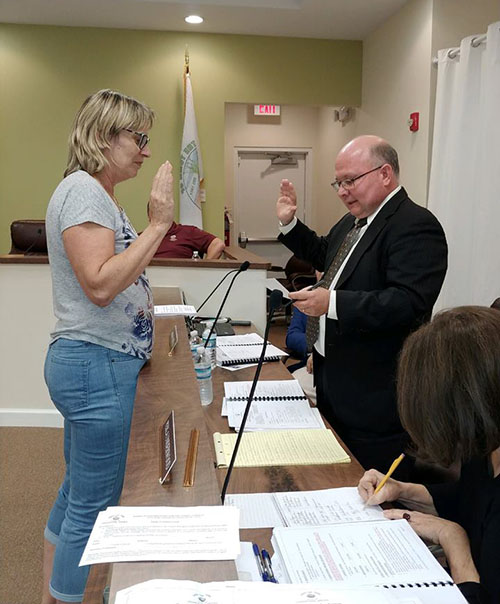 The Loxahatchee Groves Town Council on Tuesday, Dec. 4 appointed former Loxahatchee Groves Water Control District Chair Anita Kane to replace former Councilwoman Joyce Batcheler, who resigned from Seat 3 last month less than a year into her three-year term.
The council took nominations from the public, which included Kane; former LGWCD Supervisor Don Widing; Loxahatchee Groves Landowners' Association President Marge Herzog, a former member of the council; and Keith Harris, an unsuccessful candidate for the council who narrowly lost to former Councilman Ryan Liang, then the Seat 3 incumbent, in a 2015 race marred by a controversy over questionable absentee ballots.
Town Attorney Michael Cirullo explained that the clerk has a form for anyone nominated to fill out verifying that they are a registered voter and a resident of the town for at least one year.
"My recommendation on the process is that you would field nominations from either yourselves or from persons in the audience," Cirullo said. "Once you get a field of candidates, you would vote on them. Normally what is done is that you vote on them in the order that the nominations are received… and the first person to receive three votes is your councilperson."
Councilman Dave DeMarois was not at the meeting, so the council needed all three votes on the dais to affirm the nomination. The person receiving the three votes would serve until the March election, when the remaining two years of Batcheler's term would be on the ballot.
The council has never had to fill a vacancy until now.
Vice Mayor Todd McLendon said he would prefer to take nominations from the public before the council makes nominations. Mayor Dave Browning said he would prefer to vote on the nominees in alphabetical order so that there is not a scramble to make the first nomination.
Former Councilman Ron Jarriel was the first member of the public to speak.
"Last week, we talked about Marge [Herzog], and we talked about Don Widing," Jarriel said. "Both these people are qualified to come on board, but I gave you a résumé for Don Widing… and that resume is unbelievable."
Jarriel noted that Widing has many years of experience managing several municipal fire departments.
"He knows management inside and out, and he knows government inside and out," he said. "So, Don is the one I would nominate, but both Marge and Don are two good people who would do well."
Herzog was the next to speak, and she declined her nomination.
"I was honored that my name was brought up," she said. "I do appreciate the confidence that you have in me, but I feel my nomination is not in the best interests of the town."
Herzog added that her current physical limitations would limit her ability to do the job.
"I would like to ask you to consider someone who has attorney skills and has worked in Washington, D.C.," she said. "Someone with accounting skills, who has been on the finance committee here in town and successfully run her own business. I would like to ask you to please consider Anita Kane for the position."
Harris put himself up for nomination, pointing out that he has been self-employed since he was 18 and owned several businesses.
"I'm very proud of the 25 years as a state-certified general contractor and owner of Plantation Construction Inc.," he said. "We have had as many as 52 employees. We've done projects as much as $12 million on budget and on time."
Harris added that he now operates a horse facility in town.
"I served four years on the Planning & Zoning Board," he said. "I served a year on the RETGAC [Roadway, Equestrian, Trails & Greenway Advisory Committee]. I have been following the council and the district for four and a half years now. I would appreciate any opportunity and consideration you might have."
Resident Virginia Standish said she regretted seeing Herzog decline her nomination, and she offered support of Harris and Kane.
"Anita has an excellent background," Standish said. "She is on our finance committee. Mr. Harris also has a strong background with our town. I'd also like to point out that the seat that is open is the one that was denied Mr. Harris. I have personally sat in on meetings with the FDLE [Florida Department of Law Enforcement] and probably have more knowledge of the legal issues behind the case [of the 2015 election]. I would think that this is a short-term position, and it might allow the town to make some amends for the wrong that was done."
Former LGWCD Supervisor John Ryan said he favored Widing for the position.
"For many years, I have worked closely with Don Widing, and I have been aware of his extensive management and government background, and I think he has been a resident out here for more than 40 years," Ryan said.
Former Councilman Dr. Bill Louda threw his support behind Harris.
"Sometimes his e-mails get a little carried away, but then, whose don't?" Louda said. "But he's on top of it, and like Virginia said, it does make up for past problems."
Marianne Miles favored Widing for the job.
"I feel that this position, although for a short time, should be given to someone who has experience, but also someone who has not verbally or written bad things about anybody on a consistent basis," Miles said. "I feel sorry for what I have to say about that, but I was also a part of the ridiculing. I feel that anybody who sits on that council bench should not have been a part or party to things like that."
Former LGWCD Supervisor Simon Fernandez said he favored someone who could carry on in the job after the March election.
"We don't need a patch," Fernandez said. "We need someone who will take us to the next level to resolve problems."
McLendon made a motion to close nominations, which carried 3-0. He nominated Harris, but his nomination failed for lack of a second. He then nominated Kane.
"I think Anita brings a lot to the table," he said. "She did incredible work at the district, and I think she'll be fantastic up here."
The motion to put Kane on the board passed 3-0.