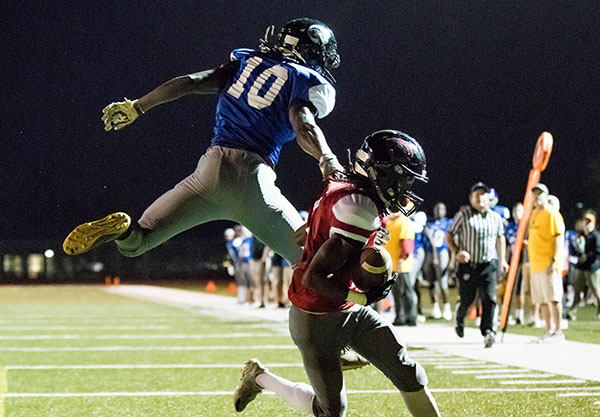 On Saturday, Dec. 15, Jupiter High School was the host venue for the Lytal, Reiter, Smith, Ivey & Fronrath All-Star Game, where Palm Beach County's best senior gridiron stars gathered to compete against each other.
Palm Beach Central High School receiver Gen'Taris Oliver caught three touchdown passes and had one interception, which earned him the American team MVP award. "It feels good to be on an all-star team," Oliver said. "This was my last high school game."
What was unusual was that Oliver's quarterback was rival Seminole Ridge quarterback Keimyn Casilla. The two are usually on opposite sides of the field during the regular season, but they had the opportunity to combine their talents to lead the American team to a 30-6 win.
The duo linked up three times on the night. "It's good to have speed like that," said Castilla of Oliver's quickness. "He's a good player and has a good personality. We just went by the plays and connected a lot. I found the open man, and he got good catches."
The American team had players from Seminole Ridge and Palm Beach Central high schools, while the National team had players from Wellington and Royal Palm Beach high schools.
The National team drove down 80 yards in 10 plays to take a 6-0 lead with help from Royal Palm Beach running back Kenel Beaubrun. Castilla and Oliver went to work after that, hooking up on a fade touchdown from inside the red zone to tie the game at 6-6 in the first quarter. An interception returned for a touchdown by Forest Hill High School's Darius McClendon made it 13-6. Castilla found Oliver for the second time on a 24-yard touchdown pass to extend the American lead to 20-6.
In addition to his third touchdown reception from Castilla to make it 27-6 in the third quarter, Oliver made several acrobatic catches on the night, including an interception on defense. He caught the eye of several college coaches observing from the sidelines. He currently has an offer from Keiser University.
Palm Beach Central place kicker Tanner Nairn rounded out the scoring for the American team with a 42-yard field goal to extend the lead to 30-6, which would be the final points of the contest.
The National team had a pick-six called back late in the third quarter and drove deep into the American red zone but could not capitalize on the drive. Palm Beach Central lineman Brandon Hudgins had his brief moment of fame when he picked up a National team fumble and returned it 38 yards before being tackled. "It felt like I was running forever," Hudgins said.
Many local athletes made an impact during the game from both teams. On the American team, Palm Beach Central was represented by Nairn, Oliver and Hudgins. From Seminole Ridge was Castilla, linebacker Peter Sinnoyiannis and cornerback Ty'Korian Brown. For the National team, Royal Palm Beach was represented by Beaubrun, and Wellington was represented by running back Jadien Durant, receiver Dane Stratton, lineman Elijah Dorvilus and linebacker Omari Burgess.