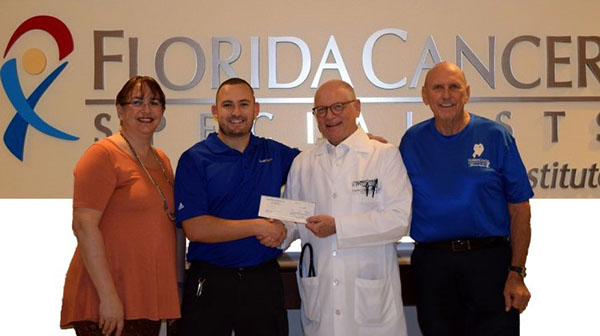 Juan Velez, customer advocate for ImageFIRST Healthcare Laundry Specialists, recently presented oncologist Dr. Daniel L. Spitz with a $1,000 donation to the Florida Cancer Specialists Foundation.
FCSF provides financial assistance to cancer patients by providing grants for qualified patients in covering expenses such as mortgage and utility payments, auto loans and payments that the patient often falls behind on due to out-of-pocket medical expenses needed to begin treatment.
In 2018, the foundation is projected to have nearly $1 million awarded to patients throughout Florida, with almost 50 percent going to non-FCSF affiliated patients.
Florida Cancer Specialists facilities in Florida have grown to almost 100 locations with several in Palm Beach County, including Wellington. FCS has recently been designated a BlueDistinction Center-Cancer Care, the only community oncology practice in Florida with this designation. FCS is also a strategic site of the Sarah Cannon Research Institute, one of the world's leading clinical research organizations.
Recognized by the American Society of Clinical Oncology with a national Clinical Trials Participation Award, FCS offers patients access to more clinical trials than any private oncology practice in Florida.
Florida Cancer Specialists is an accredited member of the American College of Radiology. The Florida Cancer Specialists Foundation conducts an annual fundraising event with the International Polo Club Palm Beach in Wellington each winter and seeks major sponsors. The funds raised provided assistance to local FCSF programs.
ImageFIRST supplies healthcare laundry and medical waste services to Florida Cancer Specialists facilities throughout Florida and is considering becoming a major sponsor for future events.