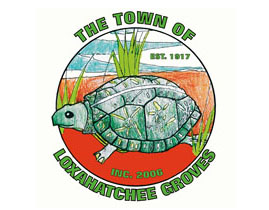 The Loxahatchee Groves Town Council will hold a special workshop meeting on Tuesday, Dec. 18 that will include a discussion of priorities for the upcoming legislative session in Tallahassee.
Mary McNicholas with town consultant Geoffrey B. Sluggett & Associates gave an update on the legislative agenda last week.
"This is really meant to be a brief update," McNicholas said, explaining that Palm Beach County Days begins March 5 after the opening of the legislative session. "We attended the Palm Beach County Legislative Delegation meeting last month and will continue to meet with members on your potential appropriations requests."
McNicholas noted that State Rep. Matt Willhite (D-District 86) is the newly elected chair and State Rep. Rick Roth (R-District 85) is vice chair of the Palm Beach County Legislative Delegation.
"[They are] very friendly and know exactly what you all are about and what you probably want to be looking toward," she said. "The one thing that I really want to emphasize is that we need to be both strategic and methodical this year, not to say that we haven't been in the past."
McNicholas noted that water issues will be a big focus during the upcoming session.
"We should try to capitalize on that if there is anything that we can do," she said.
Council members asked if canal refurbishing could be brought up, and McNicholas said what is important now is that the Florida Association of Counties had met recently and Palm Beach County Commissioner Melissa McKinlay is on a committee to address water issues.
"I think we need to discuss that with her. We definitely need to look and see what kind of strategy we can look into that way," McNicholas said, adding that the council should be looking for sponsors for potential bills in both houses of the legislature.
McNicholas compared a request by the town for improvements at D Road for $3.6 million, where the town has completed half the cost of architectural designs, but the county has requested funding for about six projects that come in at under $4 million.
"I think we need to look at that accordingly, so that it's in proportion as far as need and other factors," McNicholas said. "I think that we might want to look at a phased look at some of these projects."
Councilwoman Phillis Maniglia said some residents want to put in culverts and they were told the canal is not aligned according to specifications.
"I'm thinking that maybe we could get in a program with the South Florida Water Management District or wherever you think we may find money," Maniglia said. "We need to fix our canals. We need to replenish them."
McNicholas agreed that culverts are an issue and that she and Town Manager Bill Underwood will meet to assess some of the issues that have been brought up.
Councilwoman Anita Kane suggested that the council have a workshop to make a plan so that McNicholas does not have to talk to them separately, and McNicholas agreed.
"One thing you don't want to be is behind the 8-ball," McNicholas said. "You know that's happened in the past, so you don't want to be in Tallahassee and not have it all well thought out."
Maniglia added that with equestrian trails opening up, some areas need attention.
"We have places where the trails are not really wide enough or safe enough, so I feel that's also a part of [the] replenishing program," she said.
Town Attorney Michael Cirullo suggested that if the council schedules a workshop, it should also hold a special meeting afterward so they can take action, if needed. Council members decided to add the item to a special meeting already scheduled for Dec. 18 to finalize details of the upcoming election.
"We've been through this exercise, and Mary is so right," Mayor Dave Browning said. "We need to go in there with very specific [issues] and not go in there with a shopping list so big. We need to concentrate on a couple of things. We'll come to this special meeting and work those out."
McNicholas encouraged members of the public to participate in the input process.
"More information and more ideas would definitely help," she said.
Kane agreed with getting public input, recalling issues with last year's dependency referendum when she was chair of the Loxahatchee Groves Water Control District.
"Last year, when I brought up the bill for the water control district, I thought we had a really united front and that most people were for it, but there was a group of people against it, but they never spoke to us about being against it," she said.
She urged the public to be part of the plan.
"I really would encourage the public to take part and voice how you feel at these meetings," she said.
Kane made a motion to add a workshop at 5 p.m. before the Dec. 18 special meeting, which carried 4-0 with Councilman Dave DeMarois absent.
McNicholas added that she has meetings planned with county staff and commissioners, as well as the Palm Beach Transportation Planning Agency and the Treasure Coast Regional Planning Council, where the town has a proposed comp plan amendment on its agenda.
McNicholas recommended supporting Palm Beach State College's request for $16.7 million for a dental and medical technologies center at its Loxahatchee Groves campus by passing a resolution or sending a letter.
"It's nice to be able to be supportive of the community and vice versa," she said, adding that the Palm Beach County League of Cities is requesting a resolution honoring 50 years of home rule.
McNicholas pointed out that the state's new agriculture commissioner-elect is South Florida resident, Nikki Fried.
"She is very open to meeting and supportive of ag issues," she said. "She's definitely a friend of this council."
During public comment, Dr. Bill Louda said the town should look at cleaning up its water discharge.
"Years ago, the South Florida Water Management District made the Acme Improvement District, Wellington, do something about their phosphorus pollution," Louda said, explaining that as an environmental biologist, he has been looking at different sites with water pollution issues. "We've got to start looking at how much nitrogen and phosphorus goes out of our canals."
He suggested that the town think about getting funds to help purchase land for a filtration marsh. "They would look at that as, 'Hey, they're trying. These guys want to clean up their water,'" Louda said.