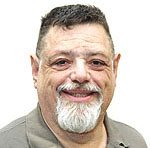 'I' ON CULTURE
The question has become, unfortunately, not whether Mary Poppins Returns is a good movie, but how well is compares to the original. In the only way that is really important, this new film is a delight for, as we used to say, kids of all ages. It has somewhat less sugar to help the medicine go down, but it is spicier, a bit tougher, but really tasty.
It takes place 25 years after the first film, a Disney classic. Michael Banks (Ben Whishaw) lives in his family's old house with his three children (Pixie Davies, Nathanael Saleh, Joel Dawson), all of them grieving the death of his wife. His sister Jane (Emily Mortimer) is a labor organizer who spends a lot of time trying to cheer them up. Unfortunately, Michael's late wife handled all the bills, and in the disorder surrounding her illness and death, the house's mortgage, taken to help pay medical bills, was not paid. As a result, Michael's boss at the bank, Mr. Wilkins (Colin Firth) wants to take the house and will do anything to get it. The kids are rebellious and unhappy, and Michael is just sad.
So who better to come and straighten things out? Mary Poppins (Emily Blunt), of course. She flies in at the end of the youngest child's kite (the same kite his father flew with his grandfather at the end of the first film). She is greeted by Jack (Lin Manuel Miranda), a lamplighter who knew her from the first time around when he was a little boy. She comes into the household like a windstorm and soon begins her work with the children. At first they are a bit rebellious, but after she turns a bath into a fantastic (somewhat animated) adventure, they are her acolytes. Later, the film provides an homage to the first film with its Royal Doulton Music Hall adventure, where Mary, Jack and the children are live and everything else is animated (using the same old-fashioned drawing techniques of the first film). Things get a bit scary but, of course, they are all safe.
There are more adventures as Mary, Jack and the children visit Mary's Cousin Topsy (Meryl Streep), whose home turns upside down every second Wednesday of the month, and then have an adventure with Jack and the lamplighters that leads to a rousing dance number. Eventually, of course, all the family's problems are solved.
The cast is superb. Blunt manages to be both firm and sweet as she does her magic. Is she Julie Andrews? No, but she is great. She goes from tough martinet to surprisingly maternal as she sings to the children about how things lost are never really gone, a lesson about missing their late mother. And then she does a great music hall turn in the animated section. This is a bravura performance. Miranda, better known as a writer/rapper for In the Heights and, of course, Hamilton, is excellent as the lamplighter. He sings and dances nicely, is appropriately bashful in his flirtation with Jane, and even manages a bit of a rap number in the animated sequence. The children were charming, and Julie Walters as the maid was great. Whishaw was touching in a performance where he had to be a bit of a wimp who eventually turns into a tiger. And I have always liked Mortimer. Angela Lansbury had a nice cameo as a balloon lady, and original star Dick Van Dyke also appeared. He managed to be not only amusing, but amazing as the nonagenarian also managed an energetic tap dance.
I really enjoyed the film. It was far tougher than the first. Here we have a real villain; in the first, it was more an example of a father not paying attention to his children. However, there was far too much in the way of trying to copy the first film. The relationship between Mary and Jack was just about the same as Mary and Bert in the first film. The lamplighters' song and dance was a salute to "Chim Chim Cher-ee." The visit to Topsy saluted the late Ed Wynn and his work. Of course, the cartoon work was an homage to the first film, and the music was fine, but could it compare to the wisdom of "Supercalifragilisticexpialidocious?"
So, yes, it was a copy. But a really good one and a treat for the family. I rate it as one of the best films of the year. This is a great film to take young kids and grandkids to. And, if you don't have them around, go by yourself and revisit yesteryear.