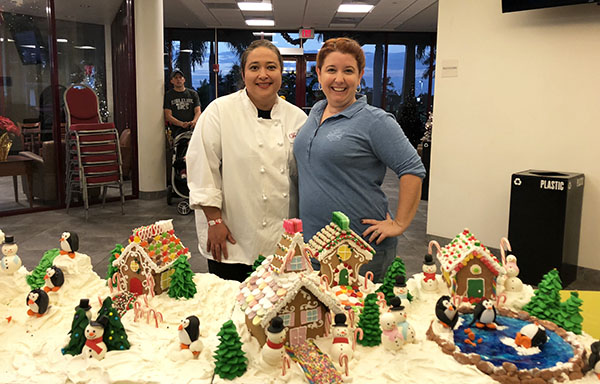 In a beautifully delicious example of community partnerships, one of the nation's most accomplished cake decorators and some of the area's most talented muralists teamed with the Village of Royal Palm Beach to create the village's first gingerbread-house-building competition, which was held at Royal Palm Beach Commons Park during the recent Winterfest celebration.
In helping plan her first Winterfest for the village, Royal Palm Beach Events & Facilities Manager Jaclyn Rodriguez thought of imaginative ways to make best use of the 8,000-square-foot lobby of the Sporting Center, the main building at Commons Park. "I decided to engage families with a gingerbread-house-building competition," she said.
But to pull this off, she needed help from the community.
"When Jaclyn called, I felt it was a blessing and an opportunity to give back to the community," said Jennifer Johnson of Johnson's Custom Cakes in Wellington, who has won national recognition for her decorating work, having appeared on the Food Network's Cake Wars and in other top-level competitions.
Johnson agreed to help judge the competition and to provide a gingerbread house centerpiece to help inspire the competing families.
But Rodriquez wasn't finished. "I really thought the event could be spiced up by appropriate art, so I reached out to local professional artists to create murals that would help set the tone for the gingerbread competition," she said.
So, she called Jennifer Hernandez, owner of Art Cellar in Wellington.
"My team and I were happy to help Royal Palm Beach, and we spent about 35 hours creating a set of murals depicting mischievous gingerbread men," Hernandez said, adding that partnering with local governments is a win-win form of collaborative marketing. "The village gets donated art, our business gets exposure, and the general public wins."
Public-private partnerships have been gathering in popularity both as a development and marketing tool for business, as well as a community outreach and teaming tool that can stretch government budgets.
"I feel that it is important for our local municipality to team up with our local businesses," Rodriquez said. "It shows a sense of community when we all come together and create a beautiful event with everlasting memories."
The event was successful, as more than 200 people packed the lobby.
"I've never seen so many families in one room," Rodriguez said. "We had 50 family groups, teams of four, compete for Most Creative, Most Festive and Most Fun titles. To see parents and children working together, laughing and making memories made my heart full. We plan to have this competition for years to come."
Then came the difficult part.
"The hardest part of the endeavor was the judging," said Johnson, who said it was especially hard to decide, with some families putting two to three hours into their masterpiece gingerbread houses.
In the end, Morgan Muccio and family won for Most Festive, Michelle Belkin and family won for Most Creative and Victoria Recchio won for Most Fun.
"Everyone turned out a winner as 50 families spent creative quality time together building art and creating happiness," Rodriguez noted.
Johnson's Custom Cakes strives to provide custom, one-of-a-kind cakes for every client. Johnson's passion is to produce breathtaking cakes and desserts that will be remembered for years to come. Learn more at www.johnsonscustomcakes.com.
Art Cellar Wellington is a social and interactive arts & craft studio offering step-by-step classes for adults and children, private parties, camps, art education and more. Learn more at www.artcellarwellington.com.
Rodriquez was very pleased with the event and its outcome. "I can't tell you how many families have been taking pictures next to the mural or the gingerbread village," she said. "It's really getting everyone into the holiday spirit."
The gingerbread village created by Johnson and the mischievous gingerbread mural created by Art Cellar will remain on display at Commons Park through December.