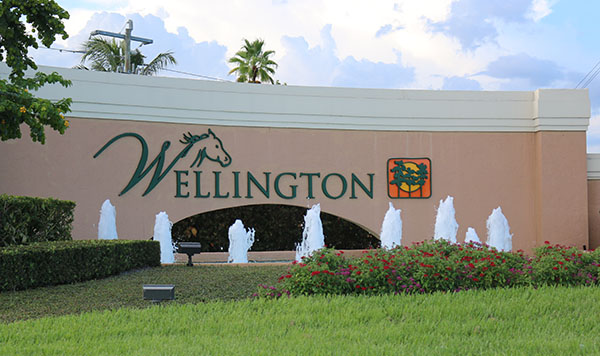 The Village of Wellington's goals will remain much the same in 2019 with an objective of maintaining a premium standard of living while further improving quality of life for residents.
"We want to continue focusing on the day-to-day operations of the village maintenance and capital improvements, but at the same time continue to get new amenities, schedule new activities and hopefully get resident input on those types of options to keep it a great hometown," Assistant Village Manager Jim Barnes told the Town-Crier this week.
Day-to-day operations include existing resources and existing facilities that will have new features, including adding and maintaining roads and sidewalks, parks and other facilities, assessing and maintaining the existing infrastructure, and recommending a replacement process.
"We are in good shape in the event of a storm event," said Barnes, who noted that Wellington's annual paving program goes on every year to improve the quality of roads and other basic infrastructure in the community.
Those capital improvements include building new infrastructure to continue to provide efficient, quality service and meet federal standards. For example, the village is currently constructing new, modern water treatment and wastewater treatment plants concurrently.
"They are $17 million each and have been in the planning for years," Vice Mayor Michael Drahos said. "All the money is saved and accounted for in the utilities fund. It is possibly our biggest initiative for 2019."
Both are major projects, Barnes said. "We're in the early stages of improving the water plant, and we are in the mid-phase for the wastewater plant. In addition to the plant work on the utility side, we can do the study evaluation and analysis of the utility system water lines and sewer lines throughout the village," Barnes explained. "We can identify areas that need replacement, going through that process of evaluating and making condition assessments of the existing lines that are in place, and based on the results of that, recommending projects for the replacement of lines."
Mayor Anne Gerwig is proud of the many activities and events done for the enjoyment of Wellington residents.
"There's going to be more of the same great hometown events," she said. "We have the amphitheater programming that is ongoing, the lakeside events will continue, the successful Bacon & Bourbon Fest event will be returning, and several craft beer events are in the works."
Gerwig invited residents to check out the events calendar online at www.wellingtonfl.gov/events to see the latest about what's going on in the community.
Barnes gave more specifics about upcoming local activities.
"Existing events will continue, such as the schedule of concerts at the amphitheater, and we will have three or four of the family fun days in the first quarter," he said. "There is Brewfest, a craft beer festival, in February; a four-day Pop-Up Biergarten in March; and the Bacon & Bourbon event will be held again in March as well."
Drahos believes that the social activities are an important part of the village's lifestyle. "They really have a community feel and are one of the strengths of Wellington," he said.
One project that might come more into focus this year are possible improvements to the Town Center area near Lake Wellington.
"One project that has been getting a lot of interest both from the residents, as well as the council, has been the proposed Town Center projects that involve consideration of options and an expansion of green space to make it a more popular gathering place along Lake Wellington, maximizing the use and complementing the amphitheater and other amenities," Barnes said.
The village began gathering public input on the project last month, with another public input session scheduled for later this month.
Drahos said the Town Center development has been in planning stages for 10 years. "It will be the featured center for the community," he said. "The next meeting will be Jan. 30, where we will be looking to continue getting input from residents on what they like and don't like. We're getting as much input as possible, and we are going to great lengths to be involved in the dialogue with the residents. We had well over 100 residents at the last one, and we hope to have that good of a turnout at the next one. We're doing everything we can to ensure that everyone can feel they are part of the process."
Gerwig has been critical of some of the project's possible changes, such as moving or eliminating the Lake Wellington Professional Center. She was also frustrated by the format of the December input meeting and hopes to see the format changed.
"People seem frustrated by that one, so we'll see where that goes," Gerwig said. "There has been disagreement about what we should do with that site amongst the council. Now with public input, we should get some great ideas."
Citing a proposed event parking garage that might be of commercial interest to the businesses nearby, Gerwig said that a public-private partnership would be appropriate for funding, and she plans to bring that up for discussion.
"If a business around there sees a benefit in a parking garage, they should be willing to invest in that," she said. "So far, I haven't heard of any private investment that's interested in that."
Moving away from Town Center, Drahos said that residents can expect continued upgrades of park properties around the village.
"Wellington prides itself on having the very best parks and rec programs for residents," he said, noting that $11 million has been earmarked to rehab multi-use fields and parks. "This is just another step in Wellington's commitment in that regard."
Much of the funding comes from the county's one-cent sales surtax approved by voters in 2016, Drahos noted.
Upcoming improvements to parks include observation decks being added at Dorchester Park and Essex Park, replacing the surfacing at several parks, adding to the pathways at the Wellington Dog Park and a number of other projects.
"That's a major commitment this year to our parks department, and we're very proud of that as a council," Drahos said. "This current council is in its third year, and we are just getting our stride."
Despite a few differences, Gerwig is pleased with how the current council works cohesively for the betterment of Wellington.
"I just want to say what a pleasure it is to serve in Wellington," she said. "It's an amazing place to live. My perfect week is one where I never have to leave our borders. I don't have to fight traffic to go downtown. There is a quality of life that's added by not having a commute, and it is a huge benefit to me personally."
Gerwig added that the residents are really what make Wellington so special.
"People are so kind in Wellington," she said. "They thank you for your service, even if they disagree on one point or another. It's really a great place to serve, and I know the entire council feels that way."
Barnes said that he is ready to get another banner year underway in Wellington.
"We are anxious to get the year kicked off and continue with the day-to-day operations, as well as new activities that are planned to make Wellington a great hometown," he said.
Upcoming events include: Lakeside Family Fun Days on Jan. 17 from 4:30 to 7 p.m., Feb. 9 from 9 a.m. to 1 p.m., April 11 from 4:30 to 7 p.m. and May 11 from 9 a.m. to 1 p.m.; the Wellington Classic Brewfest will be held Feb. 16 from 3 to 7 p.m.; the Pop-Up Biergarten is planned for March 7, 8, 9 and 10; and the Wellington Bacon & Bourbon Fest will return March 22-23. Visit www.wellingtonfl.gov/events to learn more.