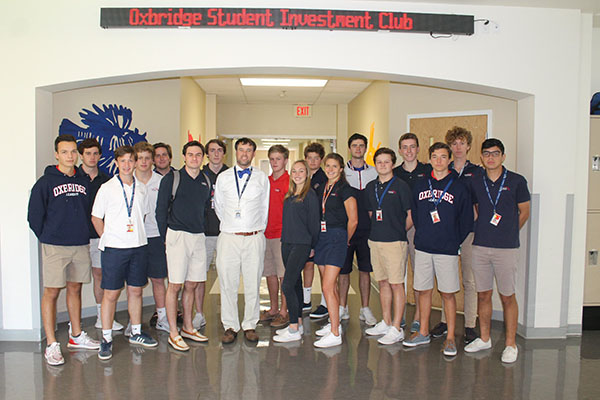 The Oxbridge Academy Investment Club recently tied for first place in the 2018 Anne Goss Foundation Common Sense Investment Program. The program involves high school and college students managing a virtual investment portfolio, competing to see which team can earn the highest rate of return on its investments.
Student members, led by economics teacher Rob Frackelton, managed their own virtual portfolio, bought and sold stocks after proposing and analyzing companies as a group.
The Oxbridge Investment Club achieved the highest portfolio return at 13.2 percent and earned an additional $2,500 in capital. The club tied for first place with Indian River State College. This is the third year in a row that the Oxbridge Investment Club has presented the highest portfolio return.
"I want the students to take away the importance of analytical skills and the responsibility of overseeing a portfolio," Frackelton said. "Whether the market is up or down, the students must accept responsibility for their decisions and manage risk."
This year's Oxbridge Investment Club has 27 members from every grade level, and the club continues to grow each year.